Rex Mahony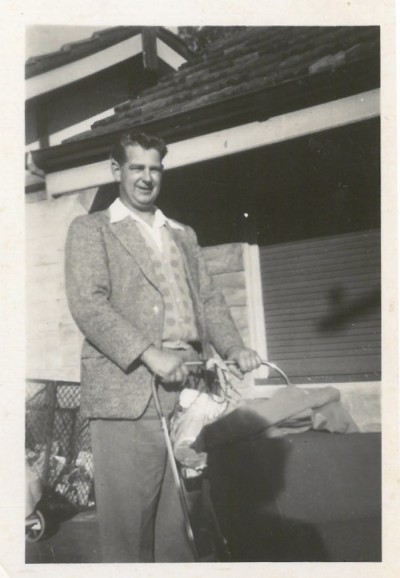 Born 1st of January, 1925 Barmedman, New South Wales, Australia
Died 31st of February, 1989 Albury, New South Wales, Australia
Rex Casburn Mahony was first of seven children born to Alma May Mahony nee Woods and William Henry Mahony. He was born in Barmedman, NSW, Australia on the 1st of January, 1925. As a baby, Rex's father, William was adopted by his mother, Matilda's sister and her husband. His adoptive father's surname was Mahony. The surname of William's biological mother was Warham. William never learned who his biological father was.
Rex's mother, Alma ran a post office/general store. His father, William was a rugby league football coach and general handyman, working on properties in the area.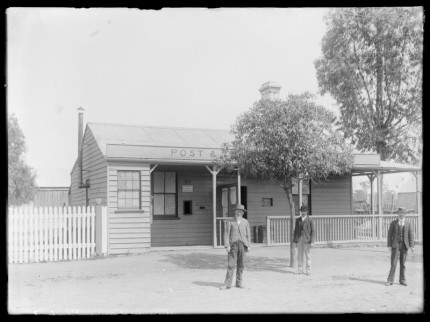 Barbara and Rex first met at a CYO (Catholic Youth Organisation) Dance at the Holy Family Church Hall in Maroubra, in the mid-1940s. Barbara was with her older sister, Helen and some of her friends, including her best friend, Betty Duggan. When Barbara spoke of that fateful evening, she remembered Rex wearing trousers that were slightly ill-fitting, in that they were too short for him. So she and her girlfriends nicknamed him, 'half-mast' (like a flag that's only half raised). At the time, Rex's parents were eager for him to couple up with a friend of the family. Barbara and Rex met over several dances at the venue and developed a keenness towards one another. They then started dating. Some of their favourite haunts were The Trocadero and Oysters Bill's. Initially, Rex's mother, Alma (Mahony) wasn't too happy about the courtship due to her strong allegiance to the Church of England and Barbara's Catholicism.
Barbara and Rex couldn't get married when they first wanted to because there was a shortage of rental accommodation. This was due to the relatively recent end to the war. A huge influx of soldiers had returned, with many regional officers, seeking and obtaining jobs in Sydney. In 1947, the couple was married at the very same place they met - The Holy Family Catholic Church in Maroubra. Barbara's sister, Helen and her best friend, Betty were the bridesmaids.
They spent the first night of their marriage at the Maroubra Bay Hotel. They honeymooned in Bundanoon.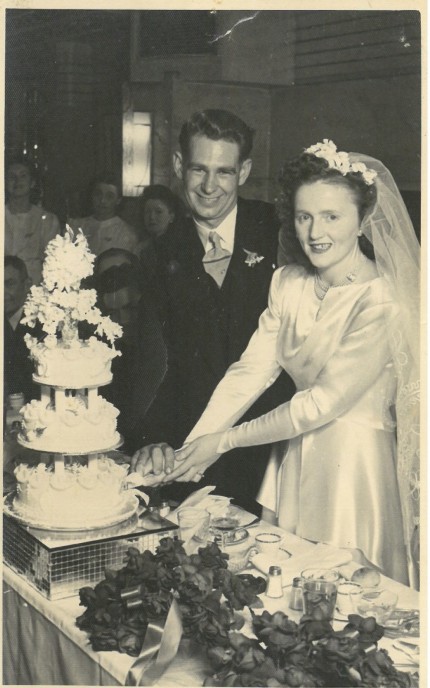 At the age of about thirteen, Rex started a refrigeration mechanic's apprenticeship. He later went into partnership with a man by the name of Johnny Adams. They had a workshop on Darling St in Balmain.
Eventually, Rex went into business on own. Upon purchasing the family home at 270 Maroubra Rd in Maroubra, Rex built a workshop at the rear entrance of the property. He specialised in commercial refrigeration, installing cool rooms and pub or hotel refits.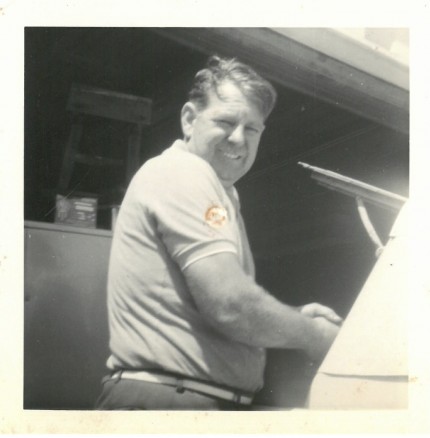 After they married, Barbara and Rex moved into a rental 'semi' house together on Edgar St in Kingsford. The previous residents of this house were Rex's entire immediate family. Rex's father, William, received a returned servicemen's land grant. He used this to purchase land and build a house in Delungra, NSW.
Three years later, on the 14th of November 1950, Barbara and Rex welcomed their first born, Margaret Christine Mahony. On the 30th of April, 1953, Cherylanne was born. Margaret recalls the story told by her mother that Rex was given the task of going down to Births, Deaths and Marriages to register their new daughter's birth. Having come up with the name herself, she reminded him of the particulars for the name registration. Rex made an error on the registration form and made the name a singular one - name as Cherylanne, rather than Cheryl Anne, with Anne being the intended middle name. When the birth certificate arrived, they discovered the mistake but decided to stick to the legal name. This is why she doesn't have a middle name.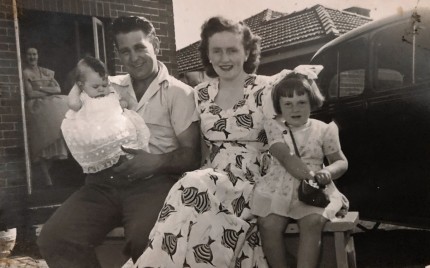 On the 27th of October, 1955, Geoffrey Rex came into the world. A short time prior to Geoff's arrival, Rex's younger sister, Shirley Mahony moved in with the family. She had been engaged to an Australian pilot who had died after being shot down over Korea during the war. When he died, he left his life insurance to his fiancée, Shirley. With the money, her family had talked Shirley into going to the United States of America by boat to visit Rex's eldest sibling, Patricia. Pat had married an American man and was residing in Wisconsin. Shirley stayed with Barbara, Rex and the children for a little over a year. They rented there for about nine years before buying the family home at 270 Maroubra Road, Maroubra. The house on Edgar St was a communal home for several family members and friends, with various people staying for extended periods when they needed a helping hand.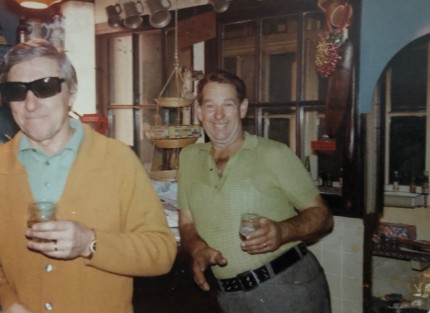 During the last twelve months of living on Edgar St, Rex's mother (Alma May Mahony Nee Woods), having recently separated from his father (William Henry Mahony), moved in, having left the property they shared with William in Delungra. Rex's younger siblings, Kerry and Cheree, also moved in.
Barbara and Rex finally were able to buy their own home, purchasing a three bedroom house at 270 Maroubra Rd, Maroubra. The house sat on a big block of land that extended all the way to Green St. Rex's mother and siblings made the move with them for a short time. About a year later, Alma and Rex's siblings moved to a house in Petersham.
Life was never dull at 270 Maroubra Rd.
One of the first changes Barbara and Rex made was to open up the huge backyard by pulling down a wire fence that sat halfway back along the property. They then went about mowing and the jungle that extended to Green St. After that they built what they called, 'The BBQ House'.
The building was made out of wood and was painted pink, lemon, white and blue. There were no windows but there were canvas awnings that would roll down to protect it's occupants in cold or rainy weather. It had flagstone floors. Rex made a big round table using a huge wine barrel as a base, with a round table top above. There was a large barbeque off to the side. At the time, this was the venue for lots of parties hosted by Barbara and Rex.
About four years later, the couple were granted permission from the council to build a refrigeration mechanic's workshop up the back of his property. This allowed him to relocate his business from Balmain and base himself at home. Barbara would work with him, taking bookings for jobs.
About 6 months later, they decided to utilize what was going to be a large office and turn it into a large, fully functioning tavern. They named the tavern 'Ye Oldee Koldee.' Stepping into the tavern was like going into a small pub.
Rex and Barbara had a big circle of friends. Sundays were usually an open house to friends and family, with a barbecue in action in the tavern. Rex and Barbara did a fair bit of traveling for both work and pleasure. They both had a passion for cooking. Rex cooked a lot of Chinese food and roast dinners. An all-time favourite was a suckling pig, cooked on their electric rotisserie in the tavern.
Friday nights always meant dinner at the Rusty Shovel - a Chinese restaurant run within the Kensington War Memorial Club.
Together they spent many weekends away at Bar Point on the Hawkesbury River with their closest friends, Roy and Nancy Cave. Rex, Roy and a few other mates would play golf every Wednesday at St Michael's Golf Club in Little Bay.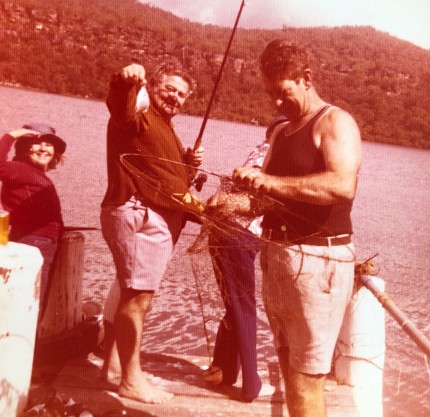 When Rex was in his mid-fifties a heart problem was discovered. He had been born with a heart condition that caused the valves in his heart to leak. Surgery was required and a heart valve was replaced at the Royal North Shore Hospital in North Sydney.
In February, 1985, just after Rex's 60th Birthday, Barbara was diagnosed with Oesophigial Cancer. Surgery was carried out at St Luke's Hospital in Kings Cross. They found that the cancer was too far spread and her cancer was incurable. Rex took leave from work and nursed Barbara throughout this time. Her condition worsened rapidly and she passed away on the 30th of June that same year.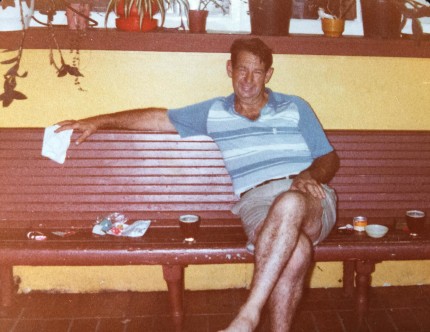 Despite his devastation, eventually, Rex went back to work. He took solace in his kids, siblings, and friends. he kept busy. rex took a Chinese cooking course at East Sydney Technical College.
After his heart surgery, Rex was often in and out of the Royal North Shore Hospital. Fluid continued to build up around his heart and this would require draining.
On the 17th of February, 1989, while holidaying with his Mother, sister Pat and her husband, en route to Adelaide. Rex fell ill. He was taken to Albury Base Hospital where he passed away overnight. The cause of death was pneumonia.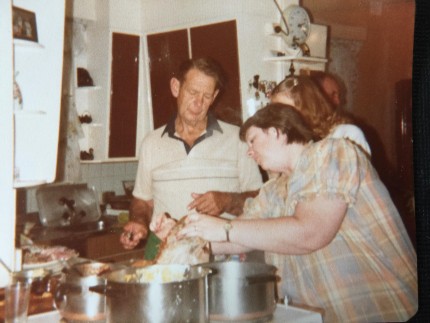 By Margaret Mosher
I did not realise how amazing it was to be born into the Mahony Family. We thought we just had an average childhood but looking back on it, it was a fantastic time. There were always people coming and going to the house. Mum and Dad had so many friends and they were all such lovely people. We went on terrific holidays. We used to go out for dinner once a week to the Chinese restaurant in town. For years it was The Green Jade and then after that, it was The Dixon.
Dad was a beautiful person. I can't ever remember him raising his voice to any of us. He was just so placid, so lovely and so kind. He was easy to talk to. Mum, on the other hand, was a bit of a powder keg. She would always say "I'm gonna tell your Father. You wait until your Father comes home." And we all knew that nothing was gonna happen.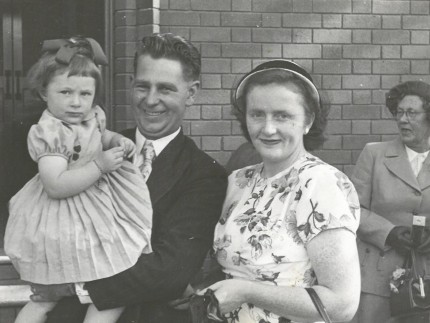 Mum was lovely. She was my best friend until we lost her. I used to tell her everything. When I was single and living in Kurnell with my beautiful boys, she used to call me every morning between 7:00 and 7:15 am and I would tell about the night before – what the kids had been up to. It was a rare thing for her to miss a day. So when we lost her, that in itself was a very hard thing. Every morning I would think – I wish she would ring just one more time.
I spent a lot of time with my grandparents, on the Ridge side. They were very religious. We used to go to church a lot. As a little kid, we lived in a semi in Edgar St, Maroubra. Dad's sister, Aunty Shirley lived with Mum, Dad and I for quite a while. Every morning before school, she would come into the backyard and push me on the swing until the whistle at the Army Barracks blew. Then she would get on the bus to go to work. Other family members that lived with us for a time at that house, included: Nanna Mahony, Uncle Kerry and Aunty Cheree. When we moved to the house on Maroubra Rd, they came with us. Nanna had separated from my Pop by then and she had moved back from the farm in Delungra. My parents would often have people over for card nights. There was always a lot of laughter and singing. They had friends that would play the spoons.
It was here in Edgar St that my little sister, Cheryl and then brother, Geoffrey arrived. I remember being so excited when Mum brought Geoff home from the hospital. We weren't allowed to touch the bassinet but Mum would tilt it so we could see him. He had a mass of black hair. He was so cute! Throughout our whole childhood, Cheryl and I shared a bedroom.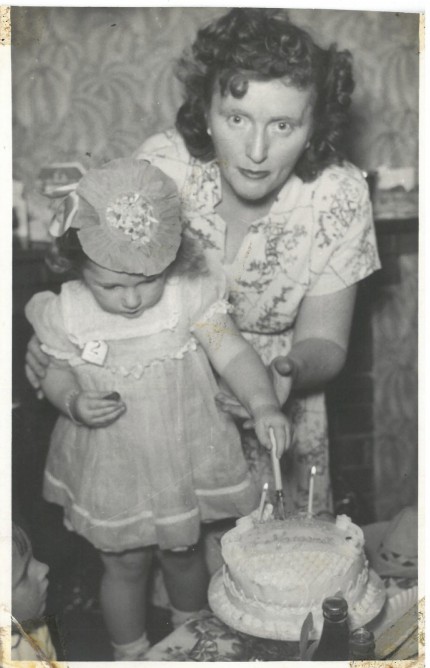 Just before I turned eight we moved into the house at 270 Maroubra Rd. This marked a new chapter in our lives and it was, of course, the house my parents lived in for the rest of their lives. It was a beautiful, old federation style home. The yard was fenced halfway off. Dad used to breed budgies. We'd have all these little nesting boxes with baby eggs in them.
We used to go out a lot to eat, which at the time wasn't a common thing. It was nearly always Chinese food. I can't really remember going out to eat anything else. I think that maybe's that's where my obsession with China began. My father was an amazing cook. He cooked Chinese meals as good as the chefs at the restaurant did, if not better. He made amazing roast dinners as well. Mum was a great cook too. Her specialties were soups and stews. I think my favourite dish of hers was paprika veal knuckles.
Dad built a huge freezer at the back of the house, in the kitchen area. That part of the house was originally a back verandah but Dad raised the floorboards up and made it part of the kitchen and the pantry. Dad was a brilliant refrigeration mechanic. He used to do a lot of work for Streets and we always had two huge, commercial-sized tubs of Streets ice cream in that big industrial freezer.
When I was about sixteen my father made a dining room table. I remember watching him glue all the wood together, using big vices. I have that table in my house now and it means the world to me. I have countless happy memories of being at that table with so many wonderful people throughout the years.
Mum and Dad's place was always a place where anybody was welcome. You could always bring someone for dinner or for a party. There was always enough to go around. On special occasions, Dad would roast a pig on a spit. I've never tasted pork like that in my whole life. It was just beautiful!
They always had lots of parties up there. Dad did a lot of things to help people. I remember we had this friend from the Doncaster Hotel. He was very sick and he passed away. Mum and Dad put on a social day at our house to help his family. We sold things on trestle tables to make money for his family so that they could afford his funeral and burial. Dad was very kind. A boy from the bush. He used to tell me that he had bad feet – the back of his heels were always sore. He thinks this was because he never had properly fitted shoes when he was a child. His shoes were always handed on to him from someone else. I think it was partly due to things like this that as kids, we never had anything but the best. We never went without.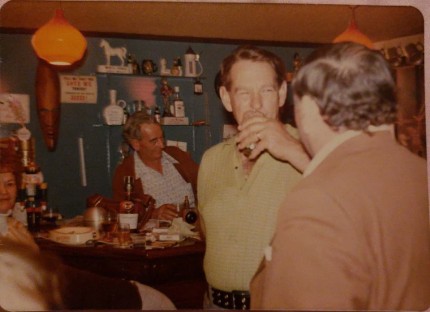 Mum and Dad were very caring and loving parents. I always felt safe at home. I always liked having school friends over because Mum would always make everyone feel welcome. When Mum fell pregnant with me, she stopped working. She was always there when I got home. She was so much fun. Both Mum and Dad went to great lengths to look after their parents. Dad helped Nanna Mahony to get her first house in Sydney. My parents supported Uncle Kerry while he was at University. In her later years, my Nanna Ridge came to live with us.
Dad was such a hard worker. He was often required to travel for work. Mum and Dad would use this as an opportunity to make little holidays out of these trips.
Christmas was a huge event at 270 Maroubra Rd. Everyone was welcome for Christmas lunch. In the afternoon, Nanna Mahony, Uncle Kerry, Aunty Vowel, Aunty June, Uncle Mick and a host of others would come and spend the afternoon with us there. Alma and Elwyn Malaine would also pop in and stay til late. The festivities would always carry on into the evening and become a big Christmas party. Uncle Billy would play the organ or piano and we'd stand around and sing. Christmas was always a wonderful time with Mum and Dad. I'm sure that's why I still love Christmas so much.
By Cheryl Hansen
Our Dad was so calm and loving. My story is about a hunting trip. They shot a goat. Dad shot it. A friend called Dick Harris was with Dad and Gerry. The 2 old guys climbed a mountain to retrieve the goat while Gerry sat and watched. From that day on they joked about how the youngster relaxed while the old men climbed Mount Everest to get it.
Dad took us as a family to a caravan park in Wingdang. We had a large caravan with an annex and the park was on a lake. Geoff and I loved renting a boat and rowing all day long. One day Geoff and I were surprised when Dad bought us our own boat. You would have thought he gave us a magnificent 30 foot cruiser – we were so excited to be boat owners. I think Geoff may have been 7 and I was maybe 9 years old.
Mum and Dad's friends Pat and Hal Gregory produced an Ice Show that went to different clubs. Dad designed and set up the ice rink in these clubs. The ice show also went to Perth and New Guinea. The chief in New Guinea and many citizens had never seen ice. They were amazed and Dad was treated like a king and a magician. Dad was a man that treated every friend like family. He helped anyone who needed it and was loved by so many.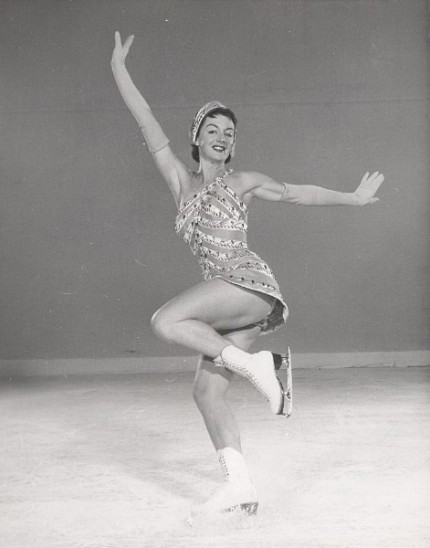 By Margaret Mahony (daughter)
As a child when we lived at Maroubra Rd, Dad would get up early and he would make a big pot of tea. He would take a cup of tea to Mum in bed and Cheryl and I would get ours in our bunny mugs.
I remember when we were little we used to go and stay on the Mahony Farm at Delungra. The kids would all sleep out on the verandah. In the morning, I'd go into the kitchen early and my Pop Mahony (William) would toast bread on a long fork, sticking the bread in the flames of the wood stove.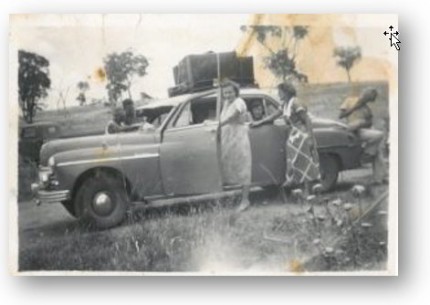 It was Dad's birthday on the first of January and for as long as I can remember there was always a party at 270. It would start at lunchtime and go til very late. Mum would maker her unforgettable beer burgers and the cabbage-apple and caraway seeds side dish. There'd be a suckling pig on the spit with the apple in it's mouth. This produced the best crackling I've ever tasted. Billy Huggett would baste the crackling in between beers. Most of Dad's family would turn up. The kids would play in the yard and of cause there would be at least one of them in the fish pond. Quite a few times it was Gina. They had so many friends come that we could never all fit in the tavern. So many unforgettable people.
Her husband's name was Elwyn. I have a white, hand-embroidered, Christmas tablecloth that her mother made her as a wedding gift. She gave it to my mum and we used it til they passed away. I've been using it for 27 years. It's beautiful!
Alma would always visit Mum and Dad's with a hydrangea flower behind her ear. After Elwyn died, Mum, Dad, and us kids would deliver groceries to her. Alma was so nice to all our kids. We all loved her.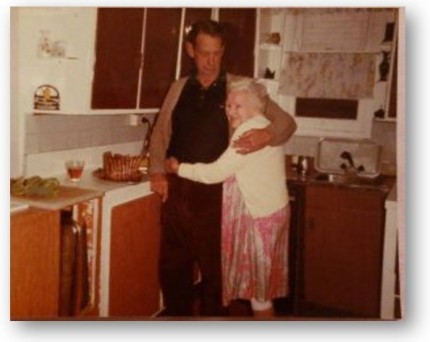 By Cheryl Hansen (daughter)
I remember the night Mum babysat mine and Margaret's kids. I got back to the house around 2:00 am. The kids were all up with Mum. She had marching music on and the kids had cooking pots on their heads, pretending to be marching soldiers. I didn't get her to babysit for a little while after that.
When we were teenagers, my brother Geoff had his mate, Billy Hession come to stay with us for a few days. About 6 months later, Billy's bedroom was 'still being painted.'
Geoff had his 21st birthday party at our place on Maroubra Rd. Felt like there were 800 surfers there, many armed with kegs of beer. Dad never raised his voice and Mum thought the blue bong was an unusual vase.
By Julie Deayton
I remember the time when Barb got her big Ford LTD stuck in the car wash in Maroubra Junction.
She once blew up her microwave. When questioned about it she said, "All I did was leave a f'ing teaspoon in the bowl!"
By Danny Deayton
I remember some great times in the backyard tavern with Rex – the perfect host on the barbeque, always making sure everyone had a coldie. Barb was in the kitchen making cabbage with caraway seeds which has become a favourite.
When the Doncaster Hotel was being renovated they looked after a cocky which when a woman passed said, "Hello Darling," and when a man approached, 'Get f***ed."
Hilarious and marvellous memories.