James Richard Stanley Trewin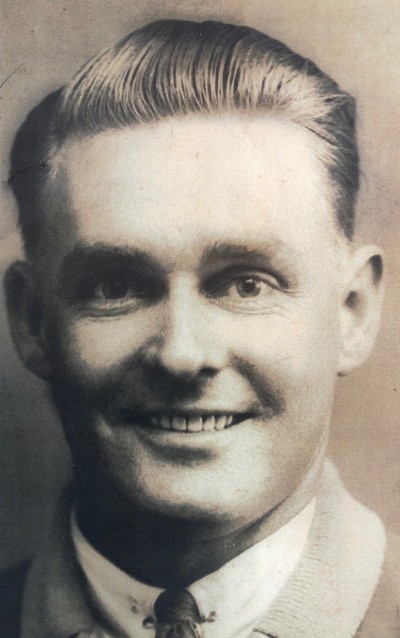 Born 6th of November 1906 Shepperton, Victoria, Australia
Died 27th of March 2005 Caloundra, QLD, Australia
James Richard Stanley Trewin (Stan) was born on the 6th of November, 1906 in Shepparton. His father, Edmund was one of the original Blacksmiths at the Shepparton Furphy Foundry. When he and Stan's mother, Harriett were married, they lived in a small cottage at the back of the Foundry.
Not long after brother Reginald was born, Edmund applied for a Land Grant and obtained 900 acres at Stockbingal, on Bland Creek. Edmund, with the help of Stan and Reg, who were mere boys, cut and built the slab home. They then cleared the land and began to farm.
Stan went to school at Weedalon School. In 1920, when Stan was fourteen, Edmund bought another Blacksmith Shop at Tubbul, near Young. He finished school at Tubbul and helped his father in the Shop. The local General Store became available and Edmund set Stan and Reg up. They lived behind the shop. One night the shop caught fire and burnt to the ground. The family lost many belongings.
The family moved to a 40-acre farm at Greenthorp which they farmed and Edmund also opened another Blacksmith Shop.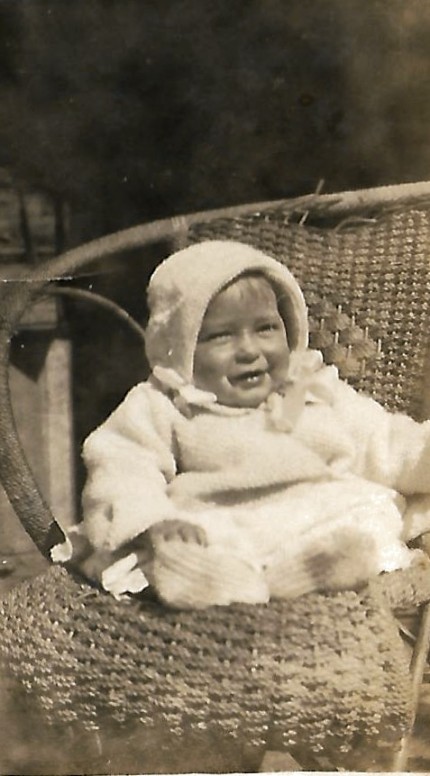 Stan first worked as a car salesman in North Sydney but hated it. He then took up selling Vacuum Cleaners, door to door. Next, he became a Time Payment Collector for Van Der Built Portraits. The Carr family moved to Leichhardt, where Thomas Carr was the Caretaker for a Furniture Warehouse. With the inheritance, Dad opened a Fish and Chip Shop on Norton St. He bought the business for 10 pounds, built it up and in only a few months, sold it for 40 pounds.
Whilst at Leichhardt Dad spent time with a friend by the name of Mick Sweetman, who taught him how to string tennis racquets.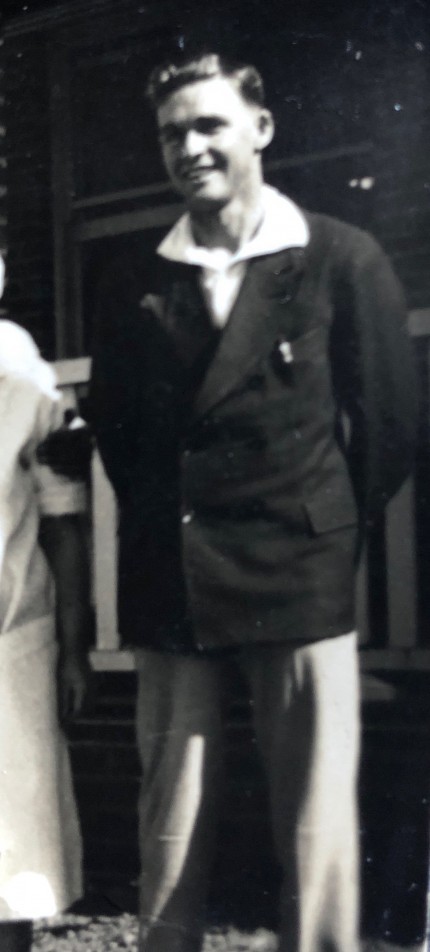 The Carr family moved back to Doncaster Ave, Kensington. It was around this time in 1934 that Mum and Dad were married. They moved to a house at 921 Anzac Parade Maroubra (on the outskirts of Sydney). Dad was now working for Woolworths in the City. He had this job for 3 years, earning 4 pounds a week. After an accident, falling against a glass showcase and spending time in hospital from the injury, Woolworths agreed to pay him 6 pounds a week in lieu of compensation. Being a keen Tennis player and knowing how to string racquets at the time, he found himself stringing racquets for all the club members during the night and working for Woolworths during the day. Mum continued with her job as a dressmaker for Jacqueline's in Oxford St, Sydney.
Dad's brother, Reg came to Sydney with his family to start a business around 1935. Dad taught Reg how to string racquets and the idea was conceived to open a shop in the growing town of Maroubra. And so 213 Maroubra Road, was rented and a Sports Shop was established, stringing racquets, selling tennis balls, shoes, racquets and sports clothing that Mum made herself. They also sold fishing gear. Dad carried on with his job at Woolworths while Reg worked at the Maroubra Shop. Eventually, Reg saved up 15 pounds and bought a small farm at Miranda - another distant suburb from the City. Dad left his small booth at Woolworth's in the City where he was stringing tennis racquets and Reg took over the job.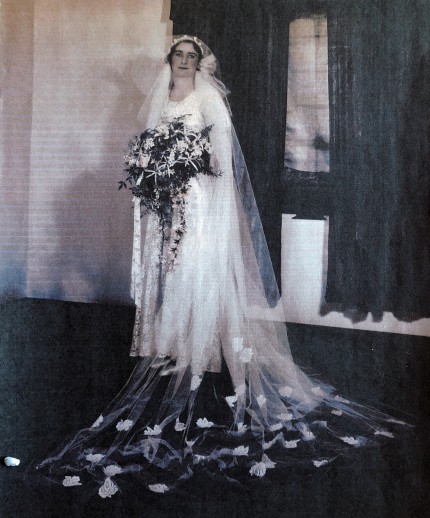 Horace Woreland owned a Racquet Manufacturing business in Chippendale. Reg and Dad registered the VAN DE BUILT Racquet Company and their label was placed on several requests sold exclusively by Trewins' with Dad's SECRET diagonal string design. I have the one and the only Van De Built Racquet in existence today. This racquet is to be treasured and cared for by ensuring members of the family who are fortunate to have it bestowed into their care in future years.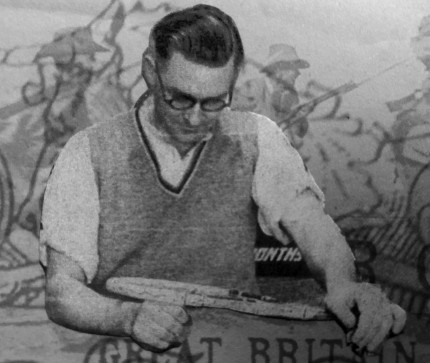 Around 1940, because there were no specialty Toy Shops around, Mum and Dad started selling toys in the shop, with Mum specialising in the new Shirley Temple Doll from Ideal Toys. She made pretty dresses for them. Together they built a large following of customers. During the late 1940's they began to stock pushbikes, Dad soon became an expert in repairing and servicing them. The Bike business boomed and they phased out the sporting gear and put in a full supply of push bike parts. Bikes and repair took over along with Mums Dolls and of course, the Toys which grew into a huge success in the '60s.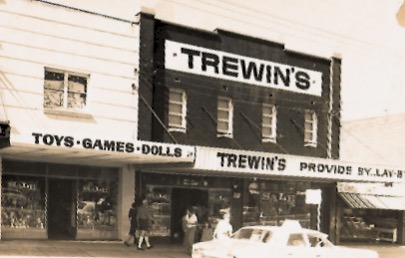 During this time, Maurice left school and began working with Dad on and off. He finally settled for cars and car spares, instead of the toy business. In 1966, the owner of the freehold put the shops on the market at 213 and 215, so Mum and Dad sold the house they built at 160 Fitzgerald Avenue in 1948 and bought the Maroubra Road freehold. They carried on business with knocking through into the 215 shop, where Mum moved all her Dolls. They lived over the shop. When Mum's sister Gladys passed away, she left Mum her unit. Mum sold it and used the money to buy a house on Nagle Ave in Maroubra. 213-215 was sold to the Commonwealth Bank in 1972 and after a short retirement and trip by car back to the Young district to visit the old Tubbel farm, they reopened Trewin Sports Pty Ltd.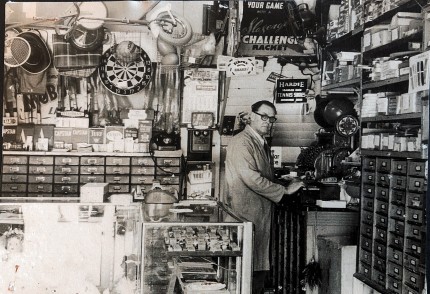 He rented premises opposite the new Commonwealth Building at 188 Maroubra Rd, for the sake of my brother David, who had worked in the business for several years and because the bulk of the stock from the old shop was in storage anyway, they both worked to build the business up into1983. It was then that Mum stumbled on the spiral stairs and broke a leg and damaged the other. After 6 weeks in hospital and a few weeks at home, it was obvious that she would never become fully capable of working in the shop again. On July 20th, 1983, just two days after a family gathering for her 76th birthday, she passed away after being transported to the Prince of Wales Hospital by Ambulance. A DVT had moved to her Lungs.
By Helen Louden (Daughter)
After Christmas 2004, which he spent in Brisbane with us at his granddaughters Rennae. During January he began to complain of muscle weakness and eventually, soreness. He was becoming concerned that the soreness was getting worse, but during all this time he never failed to rise every day, dress and go the dining room for all his meals. On Friday, March 18th I found him at 10.30am after he had been to breakfast feeling very tired and sick and not wanting to get off the bed. He complained of being very, very tired and fed up with living and ready to die. He faded quickly during the following week never returning to his wheel chair and within 2 days was incapable of caring for himself. By Thursday 24th he was refusing solid food and his decline was rapid, but he would rally around when his grandchildren would visit. Maurice and Marlene arrived by plane on Saturday night and he propped up and had a wonderful visit with them. The staff said he had a very stressful night so the next day Sunday Maurice, Marlene and I spent the day talking with him and trying to settle him.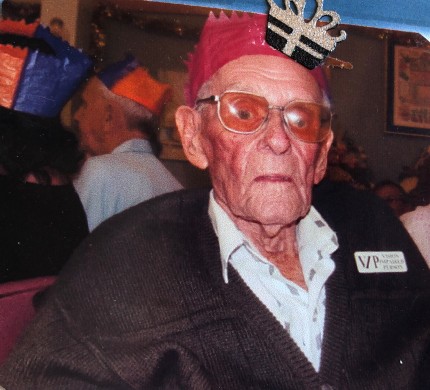 Rennae arrived with her family and he had a remarkable rally around. After they left, we also came home for lunch. When we returned 2 hrs later at 3pm he had become quite incoherent and having trouble clearing his throat. We cleaned him up and put him on his side and he finally went to sleep. We had called the Dr. earlier in the day as the staff had indicated that they could not adequately care for him in the present state. When the Dr. arrived at 5 pm we tried to wake him, but he was non-responsive. We arranged for him to go to Caloundra Hospital. We arrived at the Hospital 8.30 pm and found him in a coma, he was transferred to the ward at 9.30pm We said our goodbyes and as Maurice kissed him, he passed away at 9.40 pm on the 27th of March, 2005.
As to his wishes, there was no funeral but a beautiful family 'Celebration of his Long Life' at Helen's on the following Sunday. His ashes were scattered under Mum's rosebush at Botany and a plaque was placed at the end of his father, Edmund's grave at the Grenfell Cemetery.