Heaton Norris Girl
Born August the 31st, 1941 Stockport, England
Early Life (I)
"Oh what a tangled web we weave, when first we practice to deceive."
This is for my children - Tess, Natalie, Karl, Mark and their offspring. Dedicated to my mum, Mary Louise Proctor and my gran, Ellen Boyd.
It's my story, 'Heaton Norris Girl'. From my mother's children, I am the only child to be born in Heaton Norris and feel entitled to use this title. My father, Bernard Tickle also wrote about his life in Heaton Norris, 'Heaton Norris Boy' and another about his time in the Merchant Navy, 'Heaton Norris Boy at Sea'. Dad didn't tell the full story and you, the reader, may see me as someone who wants to hurt my father. That would not be true. These days I have understanding. I know that more than once he tried to show me he cared but sadly it pushed me away more. I simply saw too much as a little girl. Don't feel sorry for me because I was the happiest little girl that God created, until my seventh year.
I was born on the 31st August, 1941 at home in Milner Street, Heaton Norris. Many babies were born at home in those days because people didn't have the money to go to hospitals. My aunty lived about four doors away from my grandmother and my grandma always said that she was really embarrassed when Aunty Nellie gave birth because she screamed the place down. She could hear it all the way down the street. Aunty Nellie didn't like childbirth at all and as a result, she only did have the one child - my cousin May. I have heard that Milner Street is under a motorway now. Because the row of terraced houses butted up against the Viaduct, every evening bombs were dropped by the Germans, as the main railway line from south to north of England ran atop this structure.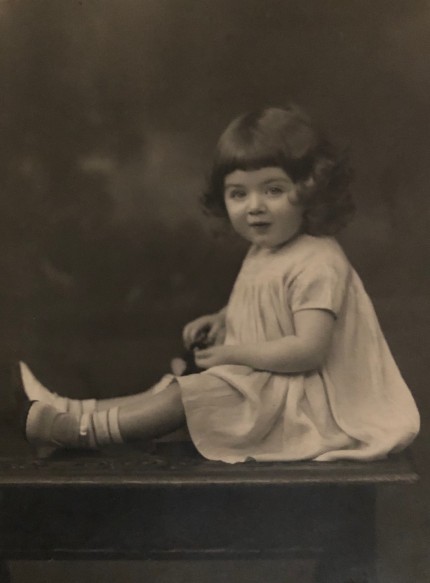 It was suggested by my Uncle Harold, my mum's brother and 'the father figure' in my life that we move away, and we did. We moved to 44 Dundonald Street, Heaviley, Stockport. I believe I was twelve months old and for the next six years, no happier child ever walked the earth. Walked is not correct; I ran or skipped and can remember this time as really joyful, even though it was still the middle of the Second World War.
My parents were very young. I was born the day before my dad's twenty-first birthday. My mum, Mary Louise Proctor was only seventeen when she fell pregnant with me. My father's name was Bernard Tickle. I think Mum fell in love with Dad because of his good looks. In particular, she often remarked about his beautiful blue eyes. Despite being pregnant with me, my mother and father didn't marry at this time.
I was sad to hear years later that Dad related this information to my brother when he was asked, "If you were engaged to this Mildred Sankey how come you got Mum pregnant with Sheila?" Years after this, and I believe my dad had at this stage passed away, my brother somehow felt the need to pass on Dad's words that I was the consequence of a "drunken shag against a brick wall."
My paternal grandmother (Grandma Tickle), when being told of this pregnancy, commented to her son, "How do you know it is yours?" Mum was also Protestant and Dad, a Roman Catholic. Just from this, the relationship was doomed and even though they eventually married, they should not have! They married, I believe around the April of 1944.
My Grandma Proctor had given birth to eight babies who were full term but during her last pregnancy, she miscarried. My cousins May and Beryl say that they never heard about this final pregnancy but Gran told me herself that she had had nine babies.
My maternal gran (Gran Proctor) was naturally upset about my mum's pregnancy but didn't hesitate to look after me. After I was born, I lived with my mum and Gran and a cat called Monty (after Montgomery - remember it's war time).
I was a lovely baby, there is no denying it. Photos prove it. I also have a memory of someone saying that the photo of me as a baby was kept in the window of photographer, Alan Nield's studio for months. I don't know if this is true or if I am father's daughter (just as egotistical)?
In 1941, World War 2 was in full swing. My dad was in the Merchant Navy. His brother, Jim was in the Army. The Tickle's were from Stockport. I think his mum's origins were Irish. I'm not sure about Grandad Tickle but I think he was a Liverpool boy. So they may very well have been from Ireland too because a lot of Irish people came into Liverpool from Ireland.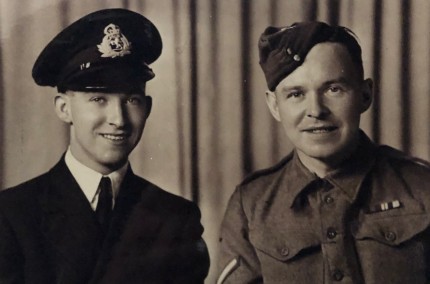 I was baptised into the Protestant religion. Mum would have done that because Grandma Proctor was a devout Protestant. And because she had a baby that died during infancy, she used to say, "You must get your baby baptised because you don't know if there's a God or if there isn't. And at least if you baptise them, they won't be wandering around in Purgatory." So she was adamant, "Get your babies baptised!"
Once there was a fire at the church. All of the official books from the church were taken to Stockport Library. My cousin May and Beryl and I went and had a look one day and we found dates of our baptisms in the books. Later on during my childhood, when Maureen was baptised, I was baptised again - this time in the Catholic faith. I remember distinctly having water thrown on my head. My Uncle Jim, who was Dad's brother, was both mine and Maureen's Godfather.
I went to a Catholic school when I was a little girl. The first school I went to was Our Lady and the Apostles in Edgeley. In the churchyard was a grotto in which there was a statue of Bernadette, kneeling to Our Lady. As I had now been given the name, Bernadette as a second name, I somehow associated this statue with me. I was not a holy child, however. On my first day at school, I remember going up to the teacher and telling her that my mother was coming to get me and take me to the dentist. This was a lie of course and the teacher just told me to go and sit down. I can remember some of the older children listening to me read, maybe they helped out.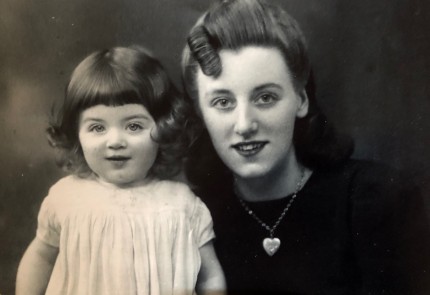 At playtime we would play at 'kiss and chase'. One time I ran into the girls' toilets to chase someone and they slammed the door on my hand and it crushed three fingers. I lost the nails on that hand. It was extremely painful and I cried a lot. I used to catch the bus to school. When we got off the bus, we had to cross a very busy intersection to get to the school. I could see army vehicles and trucks going across. I'm not sure if there was a proper crossing or if the traffic just pulled up and allowed us to cross. We'd do the reverse going home and the bus stop was just outside the church. I only attended that school for a couple of years but I learned to read very quickly and I think I was ok with the other subjects. I do know that nuns did not teach the infants classes but I think maybe they taught the older children in the primary classes.
Grandma Tickle was a devout Catholic. Grandad worked at the post office. I don't think it paid very well. Grandma Tickle would visit us probably once a week. Her name was Harriet and Grandad's name was John. In addition to my father, they had another boy named Jim and a girl named, Norah. Sadly, Norah died as an infant.
As a little girl, what I used to do, because I was a bit of a so-and-so, I used to spend some of my bus fare money on Smarties and use the red ones to paint my lips red! Most kids wouldn't dream of spending bus money. It was a long walk and Grandma used to worry because I wouldn't get home for a long time. I'd arrive home late, with red lips. I always fancied myself as a film star, even in those days. Not that I saw many movies, there was no such thing as television in those days and nobody had any money to go to the cinema.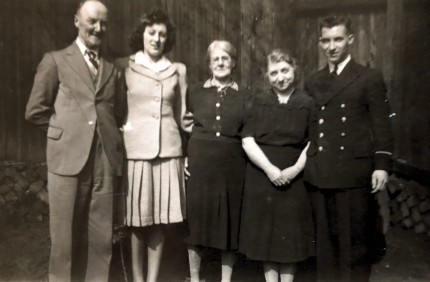 When I was very young I remember one day when a gentleman approached Grandma. Apparently he and his wife didn't have any children. And so he said, "My wife and I don't have any children and we'd be willing to buy your grandchild from you." Thankfully, my Grandma's words were apparently, "No, no. We look after our own in this family," or, "in this household."
I cannot recall either my mother or father's face in my early years. Children called each other by their full name and so I was known as Sheila Proctor. I've been told that as I was my father's child, he could not adopt me when he married my mother and that my name was changed to Tickle by deed poll. Whether the name Bernadette was added then, I have no idea. Although I was baptised into the Catholic faith when my sister, Maureen was baptised, there is no record of this in the church. A friend of mine has been to the church and inquired. Maureen's baptism is recorded, but not mine. I did make my First Communion at St Mary's, Heaton Norris and I was also Confirmed there, taking the name Margaret. Gran Tickle would never have let this happen if I had not been baptised into the faith.
I remember my favourite toy as a young child was a top and whip. It's a spinning top made of wood and it's pointed at the bottom. It's got a metal cap on it and you wrap the string around a groove and then you pull the string hard and it will send the top spinning. Every kid had one. And then there'd be other spinning tops that you'd pump a handle up and down. They were made of metal and quite colourful.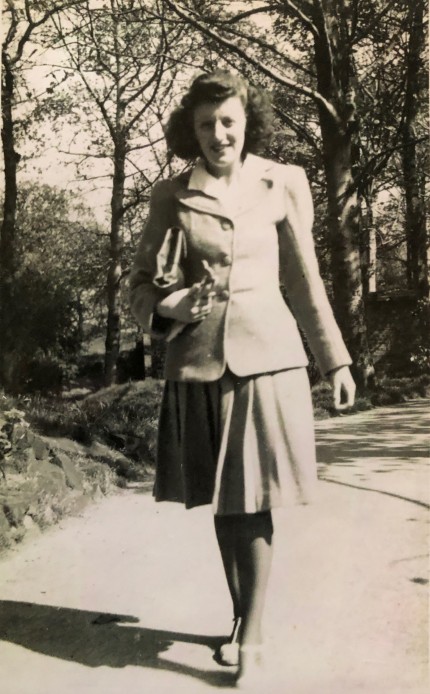 There were paedophiles about. One time, and I can't remember the year, maybe I was now living with my parents in Bideford Road or maybe I was still with Gran. I know I was in school because that is what the man asked me. When I replied, "Yes," he then asked if I was learning about the birds and the bees. I can recall running as if the devil was after me and arriving at Gran's and my mum being there having her lunch. When I told them about this man they both put on their coats and took me back to the cemetery to see if I could point him out. Of course there was no sign of him, he'd scarpered as soon as I started running.
My Gran Tickle had a neighbour whose daughter who was about my age. Her name was Joan Longton. There was another stairway under the main stairway that led to the bedrooms. Mrs Longton sold wares in their shop. Grandad would open the window sometimes, this must have been in Summer and he and I would sit on the sill and look about. He would hold me and make sure I didn't fall.
At one end of the entry on Wellington Road was a bakery, a butcher's and a tobacconist. These were shops I would be sent to. The butcher was female and had a middle finger missing. It was obvious it had been chopped off. The bakery was where I was sent to get loaves of bread. Whilst walking home, I would break off the corner of the loaf and pull out soft bread to eat. Yum! This bakery had a grid in the wall of the entryway and the hot air coming out of this on cold days was wonderful. The tobacconist would be where I was sent to buy 'snuff', which Gran Proctor used continuously. Sometimes she would buy a tin of white snuff and get me to have a pinch. Maybe I had a cold and she believed it would help. Now we know it is tobacco and should be avoided like the plague.
The passageway (entry) went through to Bramhall Lane and at the end was a toffee shop where you could get a few cheap sweets, as well as liquorice sticks and sherbert. Lollies were sold in large glass jars, by the ounce.
Opposite this shop was the Monkey Nut Field, or at least that's what we local kids called it. I do know that with twigs we would dig up nuts and eat them. It is only recently that my daughter, Natalie has said they were probably peanuts. It doesn't matter, I'm still alive, it was war time and we were hungry.
Along the entryway and on the other side was the Squirrel Toffee Works. I can remember one day a group of us (and we would have looked like urchins) yelling at men who were standing on the fire escape, asking if they had any lollies for us. They were having a smoke. Next thing, a huge block of peppermint cream was thrown into the middle of the road and we all screamed with delight. We scrambled to get as much as we could. My friend, Joyce Jenkins lived in the corner house across the road, with her family. Her dad came home from the war and didn't live very long. He must have been badly injured. Joyce told me that when he died all the clocks that were in their house just stopped.
Also on this avenue lived a lady who took in washing. The whole house (two up and two down) was filled with clothes lines and big roaring fires in the grates. I only went there once and was amazed at the amount of steam in the place. I didn't go inside, just stood at the door. The lady was named Ms Heath and she had a daughter, Florrie who was the same age as my cousin, May. Years later, when Florrie married and became pregnant, May asked could she witness the birth. I believe Florrie agreed.
I just played on the streets with whoever was around. There was a family called Smith. The father, I believe, was a bricklayer and the children were named Sheila, Harry, Billy and Beryl. I was a bit younger than Beryl. Sheila may have been about nine or ten and Harry was the next in age. One day, whilst playing with them they decided we should climb the wall and go into the garden of Stockport High School, which was across the road from the Monkey Nut Field. The reason for us going there was to get apples from the fruit trees the school grew. I think this was called 'sapping'.
I had no trouble climbing the wall and was soon gathering fallen fruit. When it came time to get back over the wall I had trouble. I think I became scared of the height. Harry came to my rescue and helped me. Thanks Harry, I've never forgotten your kindness. I never got an apple though. I think that Sheila took them home and stewed them. They did not have a mum - I think someone said she had died.
My dad had visiting rights to see me and he would come and take me to Cale Green Park. I never held his hand as it always felt uncomfortable. He took me one time to Pott Shrigley and we walked in a wood or forest. He took to a tree where he carved our initials and hearts.
He visited one time when I was sitting in a zinc bath in Gran's kitchen and I told him to go out as it was rude to see me without my clothes. This caused much laughter for him, Mum and Gran. I can still feel the indignation I felt at the time.
When dad was in the Navy he had befriended a lad called Johnny Jackson and his sister, Barbara. They lived in one of the streets off Dundonald. She asked Wendy Edwards and I to be flower girls at her wedding. I have no memory of it at all except for making a nuisance of myself by chasing the best man or one of the groomsmen around the dance floor. I really was a pain.
It was war time, we were poor, food was scarce and no one had any money to spare. Yet everything to me was perfection. I was never cold or hungry and I was well taken care of. Houses were not well decorated and dark colours were used as paint but I never saw it that way. And the rain! I have no memory of it. At this age every day was a sunny day.
In the cellar, Gran had two large tubs. One had boiling or very hot water and the other, cold in which she would put the blue dye in. This made the whites whiter. She had a "poncher" (this was a large round disc probably the size of a dinner plate on the end of a wooden stick as long as a broom), also a pair of tongs with which to pull out the washing from one tub and put it in the other. Afterwards, the washing was carried up the stairs and out to the mangle, which was against the next doors' garden wall and near our back door. Sometimes I was allowed to turn the handle and I loved doing that. The only toilet was at the end of the garden. During the war it was considered a privilege to wipe your bum on a newspaper with Hitler's face on it.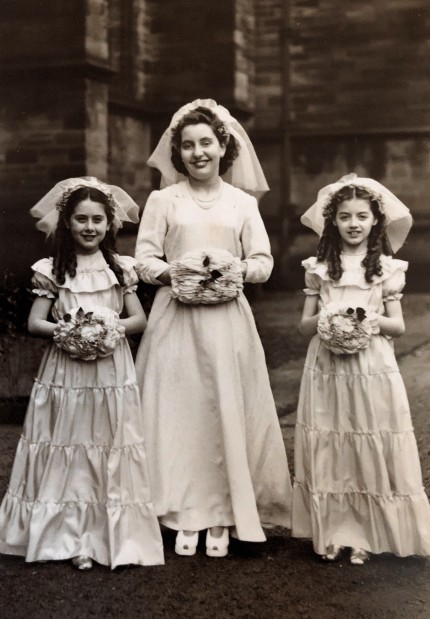 Growing against the wall between Gran's and the Spencers' was an old rambling rose with pale pink flowers. I loved that rose then and still do today. The rest of the garden was a mess and I would spend hours making mud pies with an old spoon.
There was a real sense of community there. Next door to Aunty Nellie and Uncle Jesse were the Fendles. I can still hear one of the kids shouting, "Paper, Man, Paper!" as he had gone to the outside loo and found it to be lacking in that important item.
Everybody knew each others' business but no one seemed to care. Doors were only locked at night and people would borrow 'half a cup of sugar' or 'one egg'. People rallied around and helped each other out. My dad would tell stories about how people would move large pieces of furniture into houses up and down the streets so that when the 'Club Man' came to give them a loan, he would see that they had collateral to cover it.
Back to Dundonald Street. I have memories of cutting my own fringe when I was in a cot at the side of Gran's bed. How I got the scissors, I don't know. Maybe there was a chest at the side of the cot, in a niche at the side of the fireplace wall. I just recall my mum being upset and angry. I have another memory of my mum and Gran emptying the feather mattress so that the covering could be washed and that there were feathers everywhere.
I can remember when Gran and I would sit and look at the embers in the fireplace and see what pictures we would find. Now people have their homes centrally heated and coal fires are no longer used.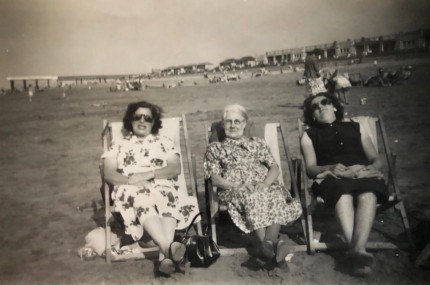 Gran would keep a bucket of coal at the top of the cellar steps and I would be asked to fill it for her as I got older and visited her. I never liked this chore as the cellar only had a light at the top of the stairs and the further down you went the darker it got. Sometimes you'd walk into cobwebs and I'd be freaking out in case a spider was on me. Having said that, the only spiders I remember were Daddy Long Legs and I remember not being scared of them as I could pull their legs off.
I was also a cheeky little girl. Gran would ask me to go over to the shop and get two ounces of cheese or butter or whatever. I would say, "No," stick out my tongue at her and run like the devil was after me. I never once recall getting into trouble for this because Gran knew that when I came in later I would go. When buying butter or cheese, the lady would have it on a board and it was sliced with wire, I think. Gran had what we called a 'reckoning book' and everything that she bought was written in that book and added up at the end of the week. As I got older I would do the adding up and the shop owner would compliment me at my ability with maths.
The shop was just a terraced house and the front room was the 'shop'. When in the shop you would see various bags standing on the stairs that were in the middle of the downstairs rooms.
The club that was on the same side of the street as the shop was also part of a terrace. I can remember once a year a bus was hired for all members to go on a day trip to a seaside resort.
My Aunty Nellie liked to dress up on these occasions and would wear large knickers made out of a Union Jack. On her head would be a blonde wig with pigtails and she'd be wearing a gymslip. This caused much laughter. And I can remember when I was much older on one of these occasions, the men had all caused the bus to stop so they could have a pee. On returning to the bus, my Aunty Nellie was heard to say in a loud voice, "Hey Jesse, I've just had a look up and down the line and you've got nothing to be ashamed of!"
Each year the Club would have a Christmas party and when I went I can remember being given an orange and an apple and thought it was wonderful. We were probably given bags of lollies also, but I only remember the orange and apple.
Also in this shop there were bags of dog biscuits and we (I say, "we" because I'm very sure I'm not the only one who did this) would steal one or two when no one was looking. Of course they were so hard you simply couldn't eat them and we'd have to throw them away.
I recall cutting up old coats into strips and then using a bone or ivory needle (it did not have an 'eye') to push one end into a washed out potato sack and then pushed there again until both ends were on one side. These were then trimmed and this made a mat which was used in front of the fireplace. In the middle of the kitchen floor was a carpet and the surrounds was linoleum. The sink had a brown slopstone under the window and in the corner was a gas heated boiler.
Above, in the corner niche of the fireplace wall were shelves. There was a box, not much smaller than a shoe box. This was filled with my mum's leg tanning powder. Some girls drew lines up the back of their legs to make it look as if they had stockings on, or so I've been told.
My Gran had a younger sister called Florence, who I believe Gran's first baby girl was called after. Sometimes Florence would visit Gran and she was always very smartly dressed with her hair beautifully done and a nice brooch adorning her coat. She was a different build to Gran. I suspect that my Gran had been tallish but Florence was short with large breasts. They seemed to enjoy each other's company and I can remember a time when I was visiting Gran with one of my friends and Aunt Florence was there. My Gran would keep the conversation going and Florence would retort with, "Well I say, fancy" then Florence would have her say and Gran would reply with, "Well, I never." This must have gone on for about an hour by which time my friend and I were in hysterics and getting filthy looks from both old ladies.
All of my clothes that I owned were kept in one drawer in the big old dresser in Gran's front room. That dresser was enormous to my eyes and on the top ledge of the dresser, Gran had various pieces of what she called 'cut glass'. Some were lovely with little legs at the bottom and I would admire them a lot. Today I have a few myself, bought mainly in 'op shops' as we call them in Australia.
In that front room I can remember meeting Uncle Harold who was visiting with his new lady friend. I think her name was Pat. I was maybe three or four years of age at this time. I think maybe Uncle Harold was married to my Aunty Vera but because of the classified nature of his work and his inability to explain where he was, the marriage hadn't lasted long.
I can remember being allowed in the front room though for only about five minutes and I can see my feet sticking up, as my legs didn't quite reach the end of the settee seat. Gran (and maybe my mum) had scrubbed the front room from top to bottom and I can still remember her worrying about the possibility of soot falling down the chimney when the fire was lit. Normally the only fire to be lit was the one in the kitchen. Kindling for the kitchen fire was in a cupboard next to the fireplace, together with newspapers, any toys I had and also shoe cleaning polish and brushes. On top of this cupboard was another cupboard where food and crockery and cutlery was kept. There were no fridges and food was bought daily. I think I was maybe sixteen or seventeen when I first heard of a supermarket being opened in Stockport Town Centre. I think it may have been around St Petersgate.
My father did change the family surname but before he did so, he had a lifetime of stories relating to people's responses to the Tickle name. This is my favourite. The ships would go into Liverpool to dock and the men would go ashore. Once they were married, my mother was allowed to go onboard the ship and stay a couple of nights with him. Anyway, on this particular day, they would go ashore to see the Wren, the lady officer, and my dad would say, "Tickle, Bernard", such and such a number, blah, blah, blah. And then Dad's mate Thomas, Thomas Feather would go and say, "Feather, Thomas." And she said to them, "Listen, I've had a bloody cow of a day. It's been one thing after another. I've had a gut full. And the last thing I need is you two silly sods coming out with all this bloody crap and nonsense. So, cut it out. I'm not in the mood." This went on for a while and eventually, Dad and Thomas got their identification books out, and she saw that their names really were Tickle and Feather.
Grandma had difficulties with the surname, Tickle. She was embarrassed by how people would react so whenever she took anything to the dry cleaners or anywhere she would use a fake name. When I was young, my mum and dad decided to change our surname to Scott. My grandparents on Dad's side were really put out about it.
I believe my gran came from a family of about five. There was Sarah (eldest), Lizzie, Harriet (Gran called her Hettie), Joe and another brother whose name I can't recall. For all her faults, Gran Tickle cooked the best chips and fried egg ever made. Her sewing machine was under the window in the living room and the drawers at the front were always full of cough lozenges. She was a tiny lady and nearly always wore a wide scarf that was wrapped around her chest as well as her throat and it was somehow fastened at the back, probably with a large safety pin. Apparently she would not hang out her undies on the washing line because she had two sons.
Steps lead up from Lancashire Hill to the gate that you needed to enter to get to her house. Next to these steps was a corner shop which sold newspapers, tobacco and lollies (usually in jars and sold by the ounce). It was owned and run by a family of Catholics who my grandparents knew quite well. Gran was a devout Catholic and had a picture of the Sacred Heart over the hearth and various statues of saints under glass domes throughout the house. There would have been a crucifix also but I can't recall where.
She, with Grandad, went to Mass each Sunday morning and often, the Benediction in the evening. I was made to go to church but I have no memory of believing anything - to me it was all theatre. I have, as an adult, been to the Vatican and enjoyed the theatre of that also, even going up to the altar for Communion as I felt this visit was a one-off. I won't go to Hell because of these things. If I believe, so I'm already here. However I don't, I live in Heaven every day of my life.
Aunt Sarah lived with her son and his wife and one daughter called Josephine. I think of these people as strange, however, I never really knew them. Aunt Lizzie lived on her own, in a tenement behind Stockport Library or the Theatre Royal.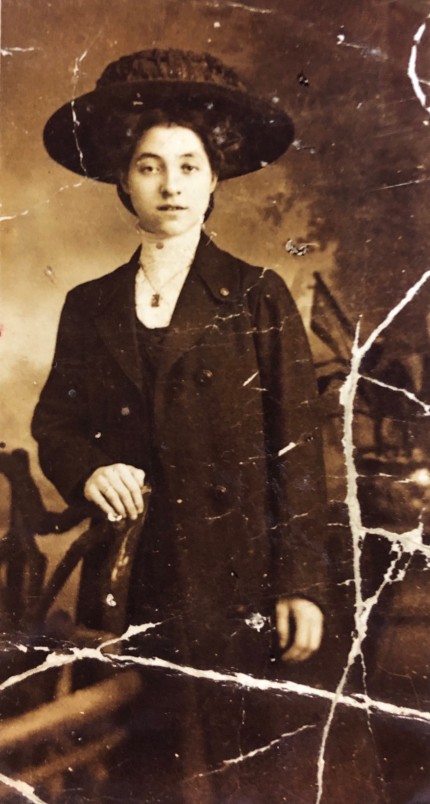 I remember going there with my dad as a little girl. He had caretaker rights. We wouldn't stay long. I was conscious of being a bastard and would not have been thought of affectionately by Aunt Lizzie, who herself had never married. She was very tiny, less than five feet tall. She wore long black skirts and a shawl. I think she had a bout of depression also. Apparently she decorated with wall paper all by herself (no mean feat, I've done this). But she never moved the furniture, just wallpapered around it!
In this same tenement lived a distant relative of my gran's. His name was Joe Scalley and he had a disability. This was due to his father having had syphilis when Joe was conceived.
I remember my dad taking me to visit Joe when I was very little and they would pretend to talk in a foreign language. My eyes would be popping out of my head. My feet didn't quite reach the end/edge of the chair (maybe I was four). I was all agog at the wonder of their stories and then they would roar with laughter at my expression. Joe was a really nice man. He was very badly disabled and could walk only with the aid of crutches.
Joe had a sister called Aunt Mena. She lived with her husband and children in Edgeley. I would visit her with Gran Tickle, not my dad. I could always feel that I was not really welcomed. Not that I'm looking for sympathy, but in those days, being the child of unmarried parents mattered. It's all so ridiculous when I look back on it!
Aunt Mena had a daughter, Irene and a son, Gerard. They were really nice. According to my dad, Irene was a beautiful baby and no other baby came near - until I was born. I then took the crown.
When my paternal grandmother's oldest sister died (Aunt Sarah) and it was decided to bury her, apparently wedding certificates had to be shown for her parents. Her parents were a couple who came over from Ireland and were married in Norbury (part of Hazel Grove) Church. This was a Church of England Church. Can you imagine the uproar this caused in the family? If you believe truly in the Catholic religion, then my grandmother and all her siblings were bastards. What a laugh!
On my paternal grandmother's side, I've been told that her ancestors go back to a family called Sexton. The Sextons originated in Tullamore, Ireland.
I have no recollection of Gran Tickle being particularly unkind to me but learned that my sister, Maureen was her favourite. I think maybe because I was so close to my Gran Proctor that my other gran wanted a child to love her best. I don't know, but I heard things from other adults.
Many years later I was to catch up with an old school pal called Bernard Hopkins who was living on the Isle of Wight at the time. I learned that the Tickle family were somehow related to his family. He then informed me that my Gran Tickle had complained bitterly to his family about my parents' decision to change their name from Tickle to Scott, when we migrated to Australia. Apparently Gran commented on how disappointed my grandfather had been. Ironically, my mother and her mother in law had, over the years, both lost shoes, prescriptions and other items. This was because when they needed to leave a surname, due to embarrassment over the Tickle name, gave false surnames. They'd then forget what name they had concocted and were then unable to collect their wares.
In retrospect, I find it difficult to maintain feelings of love towards my Gran Tickle. My dad would describe her as "an old Irish biddy." She was a gossip. Gran Tickle treated my mum abominably. Mum never deserved this. I find that hard to forgive. She was just a seventeen year old girl who fancied a good-looking lad of twenty.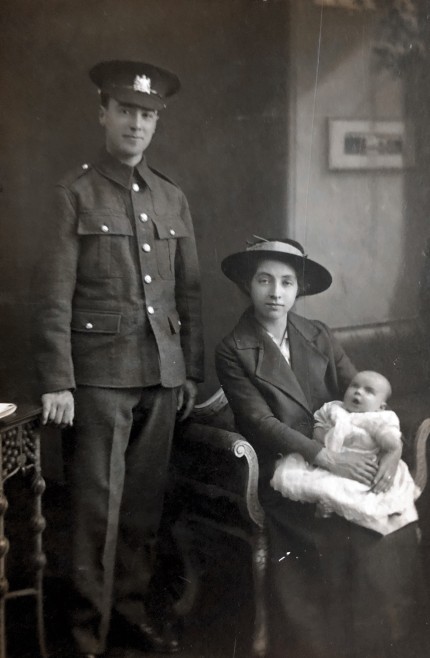 Grandad Tickle was a soft-spoken, lovely old man who would put you on his knee and rub your face with his whiskers. He liked to play his piano and organ. As small children, we would ask to play them. The answer to that question I recall as being "No", mostly because Grandad would be upstairs lying down and we had to be quiet.
I have no idea how old he was throughout my life. A friend from work at Renold Chains told me about his death when I was travelling back to Australia onboard the 'Iberia.'
Grandad had a brother, no sisters and so the story goes that he was raised a Roman Catholic and his brother, a Protestant. This was because their parents were of different faiths. He suffered an awful lot with depression and I've been told that he had shock treatment after the war. I think he suffered gas poisoning during World War 1. He repaired shoes and I can remember all the cast iron shoe form sizes he would use. He also loved to look out of his front window and see the trains come and go at Tiviot Dale Station. He and Gran's home was over an unused shop on Lancashire Hill, next to the orphanage.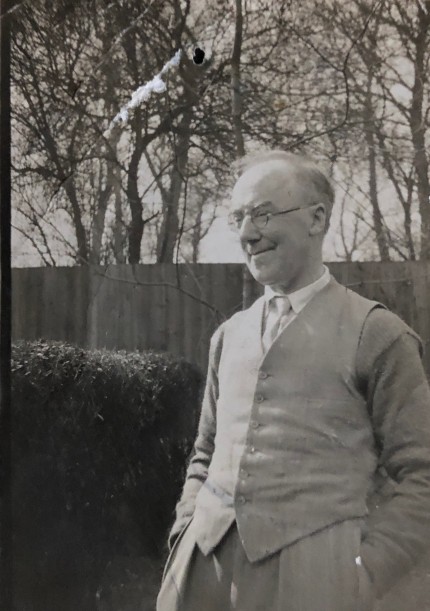 Gran Proctor
My Gran Proctor is the one I love the most and always will. She did not give birth to me but she was my mum. She was sixty when I was born. Grandma Proctor's christian name was Ellen. Her maiden name was Kay. Her first husband was Henry Boyd and they had six children. Sadly, Henry was killed in the First World War.
Their first child was called Florence and she died very young as also did another, this time a boy. I have no details of their ages nor their causes of death. Another daughter called Alice, who I believe was about twenty at the time, committed suicide. She drank acid and no note was left. This left Helen (Nellie), Ethel and Albert. The story goes that when my grandmother decided to marry my grandfather, Nellie who did not like him, suggested that she and Alice should leave home and go into service (many women did this). Alice agreed but they went into different homes and Nellie landed on her feet, going to a good place that paid well and gave her 'hand me downs'. No one seems to know what happened to Alice but we can all guess. Auntie Ethel told me these things. Despite such tragedies, Grandma Proctor was such a sweet and kind person.
Due to my parents' age and circumstances, Grandma Proctor took me in without batting an eyelid and looked after me. She did this full time until I was about seven. I have fond memories of living with Grandma. I remember running to the shop across the road to get bits and pieces - a bottle of milk, a newspaper, fire lighters to light the fire. Sometimes I would go with Grandma and we'd look at the meats in the butcher shop. We'd listen to the radio. Just a very ordinary life, really. As I grew up, we would play lots of games on the street as well. It could be hopscotch and skipping rope. Just very simple games. My grandfather was a master tailor by trade. He would have clients come to the house and he would add on half a yard of extra material and then run up skirts or whatever was needed for Gran and Ethel. Apparently he didn't need patterns. He could just cut the material out. He'd just whip up skirts and jackets in next to no time.
Grandad had also had a prior marriage before being married to my gran. He'd been previously married to a lady named Amy and they had a daughter called Dorothy. When his first wife died, Dorothy was left with her maternal grandparents.
Sadly, Grandad was also an alcoholic. When drunk, he was prone to violence and would physically abuse my gran. On more than one occasion, Gran had to have stitches after Grandad smashed a beer bottle over her head. Gran never said a bad word about him.
She would tell me that her first husband, Henry, came to her in the night to talk to her. I was terrified and slept with her for years. At first in a cot at the side of her bed, but then in her bed with her. I can still feel the comfort of snuggling into her back. We had a 'Po' or a 'guzunder' as they were sometimes called, under the bed. It was a plain white one. Under the front window was a wooden chest, I imagine for extra blankets. A precious item that Gran kept in there was a large, commemorative, bronze plate that was sent to her after Henry was killed in France.
As far as I know Gran worked in mills all her life. She also loved a beer. I can remember as a little girl she would walk with me down Dundonald Street, cross Wellington Road and enter the Bamford Arms. I would be kept sitting on the doorstep with our cat Monty who used to walk with us (one night he was killed on Wellington Road). She would drink a beer at the bar and then the barman would fill a large jug, which Gran carried under her shawl and then we would walk back home. She used to give me a very small amount and tell me I'd have a good nights' sleep with it inside me. I would be there left to fall asleep in a fireside chair before being carried up to bed.
Gran's house was a terrace of 'two up and two down' with a cellar and outside loo at the end of the back garden. I can remember carrying the Po down and emptying it into the outside loo. Not often, but I can also remember carrying big, heavy glass containers to a shop on Bramhall Lane or just around the corner on Wellington Road. I think they were batteries for the radio and they were filled with acid. God help me if I had fallen with them! These were hard times for all but I remember always being a happy child.
Next to Gran lived Mr and Mrs Spencer and whenever I would go into their house with Gran, my eyes would be shining with wonder at how polished their furniture was and how much 'better off' they would be than us. I had no jealousy, just wonderment.
This couple had a 'big boy' living with them who I believed was their son (forgotten his name). However, it turned out he wasn't their son. He was the son of their friends who had too many children and because they had none, they took him on. He seemed to be happy enough but I was only small at this time.
Next to Mrs Spencer was an old man who lived alone and because his home was at the beginning/end of a terrace it had a large wall. Kids from around the neighbourhood would tipple up to it, use it for various ball games and generally make a nuisance of themselves. I cannot, however, remember the old man coming out to tell us off. He was very old and perhaps he was deaf. I think this small street was Lilac Street and the other, Violet Street.
On the other side started another row of terraced houses with neighbours who had in their back garden the underground shelter, where we would run to when the air raid siren went off. I can remember being literally thrown under Gran's table while she and Mum put on their coats. Then they picked me up and we all ran to the shelter as quickly as possible. Years later I would tell anyone who would listen that I had a Mickey Mouse gas mask. It was a lie of course, but I must have seen one or heard about them from somewhere.
I have no memory of our time in the shelter. I was probably asleep but no bombs ever fell in the near vicinity of this area, as far as I recall.
My Grandma Proctor was the nicest woman that God ever created.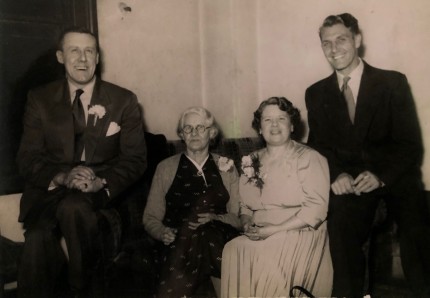 Aunties and Uncles
Uncle Harold Proctor was in the army but he wore civilian clothes towards the end of army life. Mum used to get the fits with him because he'd brag about having dined with kings and so on. They used to go overseas an awful lot to the Arab states, and to different countries in that area of the world, so he probably did dine with kings, but it wasn't the kings of England. It was Middle Eastern kings. But my uncles, every single one of them, bar none, were always beautiful with me. Always lovely with me. It was as if, me, having been born out of wedlock, and a bit of a blur there, they gave me a little bit of extra attention. And each and every one of them, they were lovely with me. Not my aunts particularly, but I'm talking about the men.They would make a fuss of me.
My mum's only full brother, Harold was very clever at Mathematics and was sent to a school for bright children. The name of the school I've heard is Blue Coats. I do have a photo of him in his uniform and I believe he studied at Bletchley Park in the war years. All my Gran ever said was that he used to be dropped by parachute into enemy lines with a radio but knew nothing else.
When he was home on leave, Uncle Harold would teach me how to tap dance on the linoleum square near Gran's front door. He was the main man in my life and I adored him.
The young people of Stockport used to go dancing at a place called 'Short Street'. My father knew of my mum's brother as they had to go to some sort of training to get the young men ready as war was imminent. My dad, who sarcastically called my Uncle Harold "Honest Harry" said that Harold always got "shot" early on in the practice as he had a card game to go to.
I don't know if my mum and her brother ever got on. Mum told the tale more than once about how her brother jumped onto her doll's house from a few stairs up the stairwell. This may have been her only toy. However, years later when still working in the army (but wearing civilian clothes) in places abroad (Hong Kong and Singapore) news would come to say that he and his family were returning to the UK. Mum couldn't wait to meet up with them. They'd all have a night out together at some pub (people didn't go out to restaurants at this time), but just about every time the evening would end up in an argument with mum accusing her brother of being a "bloody snob" who said he dined with kings and queens.
I think that maybe my mum was just as bright at maths as Uncle Harold but opportunities for girls were not around. Years later when mum was working in a mill on Hillgate she was sent by the firm to learn how to use a slide rule and she was given a job doing time study motion. This meant she had to watch how all her mates worked and basically 'dob in' the slow ones. She ended up leaving the job as she said that she had been with some of the women since her school days and felt ill at ease being responsible for getting them in trouble.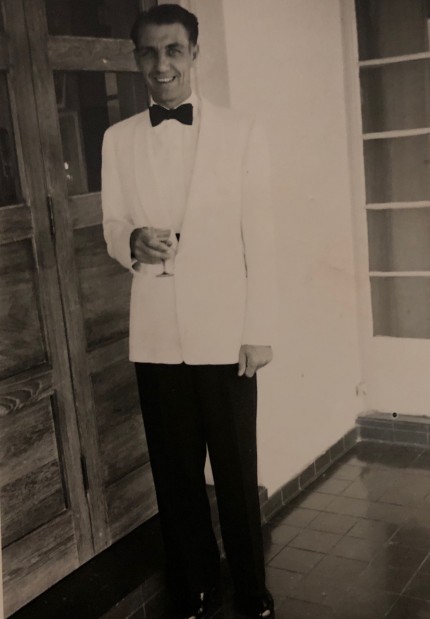 My Uncle Albert worked in a factory but I'm not sure what type. I don't think he joined the forces during the war and I'm not sure where he was during that time. He and his wife, Marion didn't have any children. At one point they were expecting but sadly, Marion lost the baby after being knocked over during a blackout caused by an air raid. They owned two cottages up on a hill in the countryside in a place called Mousehole.
From Wellington Road through to Bramhall Lane ran a passageway or as we called it, an entry. My cousin's dad, Uncle Jesse worked in a timber mill. For some reason he often wore wooden clogs. He would walk up this passageway in his wooden clogs and every afternoon when I heard those clogs, I would run to meet him. He was a lovely man. Not tall, slim build and a bit like Bogart in looks. I can see him now with two hairbrushes. He had one in each hand and would brush his hair briskly. I think maybe he used Brylcreem. He lived with my mother's oldest living sister, Aunt Nellie and they had one daughter named, May - she was born in that month.
My Uncle Jesse was a lovely uncle and my cousin, May, when I was young, was always nice to me. Aunty Nellie was not. She just didn't like me. I've no real idea why but I suspect she had problems with jealousy. I would go to her house every day as it was just four houses up the road. Doors, during the day, were never locked. As young as I was, I could sense the dislike but my need to read May's comics overcame that. I would enter at the front door, walk through to the kitchen where most days Nellie would be at the table, ironing.
She was very short in stature and always wore an apron with a large pocket at the front. This was always filled with food. I think Cornflakes but maybe potato chips. I really don't know, but I do know she constantly ate something out of that pocket. When she saw who had entered her home, I was always greeted by the same question, "What do you want?" My answer was always the same, "Nowt." To which she'd reply, "You can have that."
If May's comics had arrived and Aunty Nellie was in a good mood, I'd be allowed to read them. Not always though. If she was in a really pleasant mood she would go up to her bedroom and fetch down books for me to look through. These were books about Shirley Temple, who at that time was a very popular child movie star. I loved looking at all the pictures.
My cousins May and Beryl (Aunty Ethel's daughter) and I would pick who was the better looking out of Uncle Harold and my dad. They always said my dad. I always said, "Uncle Harold." I had another Uncle Harold, Beryl's dad and their name was Pavey. He had a dreadful stammer. Never in front of him but behind his back, my dad would have us in hysterics, taking him off.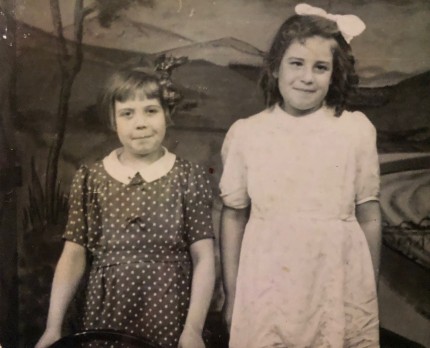 There were two clubs on Grandma's street. One was the Labour Club and the other was the Liberal Club. Uncle Jesse and Uncle Harold were members of the Labour Club. It was right opposite Aunty Nellie's house. Aunty Nellie may have been a member as well. I think they went on a weekly basis to socialise and have a few drinks. It was a bit of an outing for them.
I was a teenager during the 1950s, living on Bideford Road and I learnt to dance with a friend, Barbara Holden. She had two brothers. She was a beautiful girl. Her mother was a short, little lady and always wore very high heels and a fur coat. Barbara's mother also used to go out and play the card game 'Whist'. I remember she was a nice lady and she would let Barbara and I go into their lounge. Most people in our street couldn't afford furniture to go into their front rooms, only the back rooms. So Barbara's lounge was empty and we taught ourselves to rock and roll in there. It was during that time the Beatles came out. Barbara wore a Davy Crockett hat and rode a bike with it on. She was a bit of a character. She was also a really nice girl. Barbara used to babysit for a local family with small children. My mum wouldn't let me babysit, I don't know why.
As I got older we didn't have money to go and see bands and music, the most we had was money to go to the movies. The same went for things like learning an instrument, it wasn't even talked about. My grandkids now have different opportunities. Annabella plays the piano and Oscar and Euan both play the guitar. They are very lucky to be able to do that. It was just unheard of in our time. Although, my Aunt Nellie could play piano by ear - she was very musical. I don't know where that comes from!
I started school at the Catholic school, and that was a decision made by Grandma Tickle because she was a devout Catholic and wanted me to grow up in the faith. I had to go a long way to get to school. I could have gone round the corner to the local school, but it was a Protestant school. I had to catch the bus. On the very first day, my mother took me to a bus stop and there were older girls there, and she just said, "Girls, can you see that my daughter gets the bus to go to school?" The road was a really busy main road with big Army trucks and all sorts of things flying across it. How I didn't get killed, I don't know! But anyway, they got me into the school. I think I spent probably only a year or two there at the most before I left.
Mum and Dad were allocated a council house. It had three bedrooms. It was really quite a nice house. I don't think I've got any photographs of it, actually. But it had bay windows downstairs and upstairs in the two double bedrooms, and then a 'box room' - which was the smaller, third bedroom. The bathroom had a bath in it and no shower. You didn't have showers in England. There was a wash basin and toilet in the bathroom. I had turned seven in August and in November we moved into this house. My heart was breaking. I so missed my gran and my parents were strangers to me. My parents had very little money and in the very first days there, Maureen and I had to share our parents' bed. Our parents slept at the head and we slept at the foot. I was on the side where my father was and I hated his feet touching me. I would curl up into a ball and move away as much as I could.
Five years after they had me, Maureen was born. So she was still very little when I moved in with Mum and Dad. I shared a double room with Maureen. Tony had the single, 'box room'. And Mum and Dad had the other double room at the council house. I changed schools at this time to attend a Catholic school close to our new house. The school was St Mary's. This was the school where Grandma Tickle worked in the playground, looking after the children when the teachers had their break. She would make sure there were no fights or bullying and things like that. I can always remember it used to be bitter cold. The school was on top of a hill and the wind would be whistling up there. She always had a big coat on to keep herself warm. About a year after I moved in with my parents, my brother Tony was born.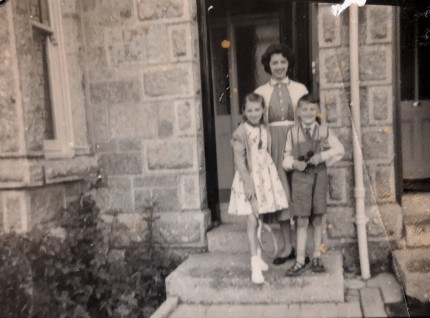 About ten years later, we welcomed my youngest sibling, Karen into the world. I was eighteen at this time. I remember Mum was walking around the house, heavily pregnant and she said to me, "I want you to go out to the market and stay out a few hours. Take Maureen with you." So we all went out to the market. We must have been out about four hours and when we got home the baby was born. Dad had brought a single bed downstairs into the lounge room and she had the baby already there. Over the years we all attended St Mary's, but Maureen hated the school. She used to run away all the time. During my primary schooling I remember the teachers being very cruel with the cane. We used to get the cane regularly if we didn't behave ourselves. One teacher, she was vicious. She would lift her leg up and bring it down with the cane. Her name was Ms Turner. She was an unsightly woman. She had buck teeth. I can see her now, she was not a nice lady.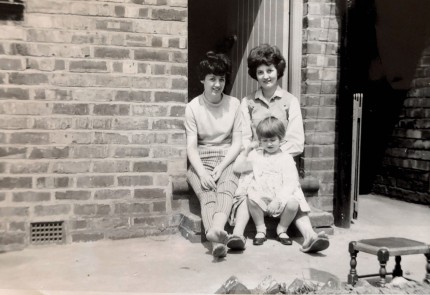 Moving in with my Mum and Dad was a big change for me because my dad was a violent man. He and my mother would row quite often. There was always lots of stress, lots of arguments and lots of swearing. I was privy to all of that and it wasn't nice. I remember her crying about coats. There used to be a nail on the back of the back door and the coats would be hung on the nail, and she'd be struggling trying to get the coats off the nail. I was just seven and Maureen would have been two. She'd be sitting on the front end of the pram. Tony was in the pram as a newborn. Maureen would be sitting on the cover of the pram, but right at the front. And I'd be holding the handle, walking with the pram. Mum and Dad would be fighting. This was all before we had even left the house for the day.
Lots of things would set my Dad off. A lot of it stemmed from Mum not being able to manage money. No matter how much he earned, it went. Dad would go to London to paint the ceilings of theatres. It was backbreaking work but it paid well.
I always loved going to Grandma's. To me it was going home. Because that was my real home - there with her. We would walk back to Grandma's. And it was a good walk. I don't know how many miles, but it was a few miles. We would walk home in the cold, snow, God knows what. Grandma only had two bedrooms, so we'd all have to pile in the best we could with her and sleep the night. The next day, we'd go back again because really, there was no room for us.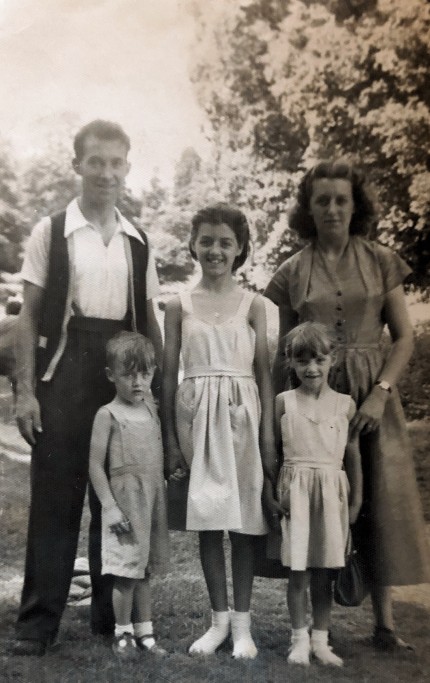 I never felt love at all from my dad, ever. I felt love from Mum. I felt sorry for my mum because of the way that my dad treated her. My parents would have these really violent rows. Then I'd have to go to school the next day and pretend everything was hunky-dory and rosy. I used to run... I don't know how far it was to go to Grandma's, but it was miles. And when I first went to live on Bideford Road, I would go home to Grandma's two or three times a week. Moving away from her was so hard.
I think my parents eventually married when I was four. My sister, Maureen was born on the 29th of July, 1946. I was five that year and would have started school. I was sent to a Catholic school in Edgeley, called Our Lady and The Apostles.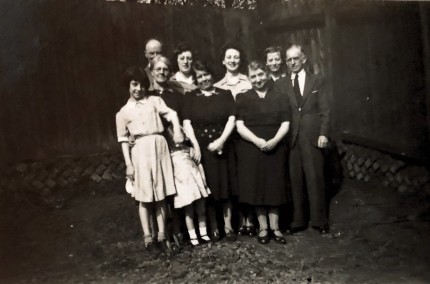 Once Mum married my dad, she used to visit another lolly/tobacconist shop on a corner, not far from where we lived. I believe the shopkeeper was on the council for Stockport and Mum pestered him about getting her a council house. This happened and she was offered one on Bridgehall Estate. She refused to take it as the area already had a bad reputation. I'm very glad she did. Eventually, she was offered a three bedroom house on Bideford Road, Offerton and this met with her approval.
My Aunty Ethel told me that the day before Mum married, she went to her (Ethel) to say that she wasn't sure she was doing the right thing in marrying Bernard. Ethel's reply was, "Every child needs a father," and so the marriage went ahead. I don't necessarily agree with that. I do believe that every child needs love - and I was getting plenty of that from my maternal grandmother.
In England, you do your Eleven-Plus Exam to go on to high school. They also offer a Thirteen-Plus Exam. I was the only girl at my school who passed the exam. This meant that when all my friends left school and joined the workforce, I continued studying, attending Stockport College. It was there that I learned shorthand typing and bookkeeping. Skills that at the time, were beneficial for women looking to join the workforce. Due to so many of my friends from school not continuing on their studies with me, there was a time when I didn't see them as often. My closest school friends and I, since Primary actually, have stayed in touch though and I'm pleased to say, have maintained our friendships for all these years.
I was fifteen when I graduated from college. My first job was working for Renold Chains, which is where my dad worked. In a way, Renold Chains was one of these firms where a lot of kids went to work because their parents worked there. They were helped to get into the door type of thing. At Renold Chains I worked in a little office within the building and we would give out stationery, a packet of paperclips or special seats that they used for certain things. I enjoyed that side of the job.
In 1959, when I was eighteen years old, my parents decided to move the family to Australia. It was under the 'Assisted Passage Migration Scheme' that the Australian government were offering, to help in the migration of British families to Australia by making the expenses very minimal. The Brits, who made the move under this scheme are often referred to as the 'Ten Pound Poms', due to the ten pound processing fee for migration. My parents made the decision because they thought that they would be better off financially in Australia.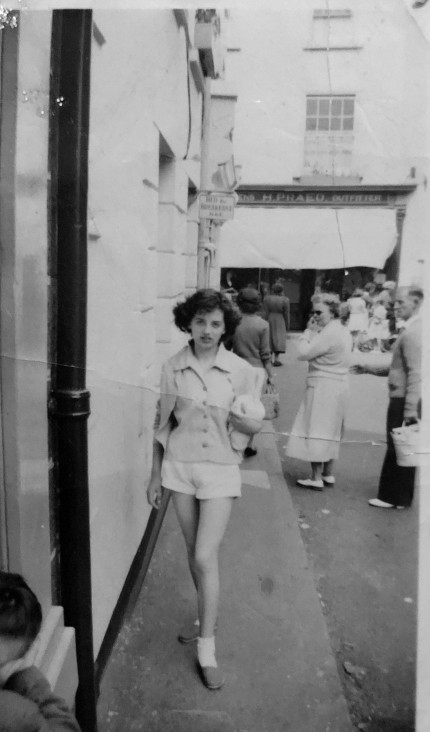 We came over on a ship called 'Fairsky'. I befriended another young girl on the boat. We used to just go around and muck around with all the stewards. But there was no real romance. There was no kissing even. They were very strict on the staff and the stewards would've been in lots of trouble if they were caught doing anything with a female passenger, anyway. So they always had to be on their best behaviour. We certainly were. We were pretty innocent, really. My friend on the ship was actually going with her dad and I think two or three siblings to Tasmania. To me Tasmania was like going to the other side of the moon. At least coming to Adelaide seemed a bit more modern. Mum chose Adelaide as the city to start out in. I can't say for sure but I think Grandma Tickle had a hand in the choice. She was so religious and she liked the sound of 'The City of Churches.' I'm just surmising though. It wouldn't surprise me, she was so devout. She lived for the church. Everything revolved around the church.
When we arrived in Adelaide we were taken to the hostel. It was horrible! We had to go and get our own toilet rolls. Meals were served in a huge hall which was really just a giant shed. And we would have to queue up with our tray, knives, forks and spoons. Some of the food was disgusting and the living quarters were dreadful. The rooms were poky and the roof was made of corrugated iron. We arrived in the middle of Summer, so it was striking hot inside there. Really, baking hot!
I was heartbroken having to leave my grandmother. I didn't want to come to Australia. My grandmother was living by herself at this stage. My grandfather had died many years prior and I didn't want to leave her on her own. Mum was tough, and she wanted to go to Australia and that was the end of it. Her daughter Nellie and granddaughter, May lived nearby but spent little time with her. My grandmother was eighty-one when she passed away. Incidentally, my father Bernard, was also eighty-one when he died. He is buried at Stockport Cemetery.
It was like we lived in two different households at that time. Mum always had me taking care of my siblings but being a young girl at the time, I was still living under the rules of my parents. Another thing that made it harder to leave England when we did, was that I had a nice boyfriend there. He was very special in my life and there was a great affection there. It was one of those nice romances where it's all just fresh and new. It was very innocent. When I went home three years later he was the first to arrive on my doorstep. I'd heard that he'd become engaged to a girl and he said to me, "She's worried sick." And I said, "Well, tell her not to worry because somebody's asked for my hand and my dad has said yes."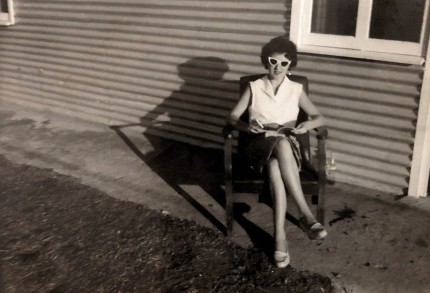 I had been dating a young fellow named Ernie Kiernan in Adelaide and he had proposed to me before I left. He went to Adelaide to buy the ring. It was a Saturday and he found that the shops were closed. This was just prior to me boarding the ship back to England. So I went back without an engagement ring. When I returned to England, I broke the engagement off. Seeing him again made me realise I wasn't really interested in marrying Ernie. But my English ex-boyfriend still went ahead and married his fiance in England.
When my parents arrived in Australia, my mother got a job working in accounts for a firm in Adelaide. My father worked all the time. He never stopped working, my dad. He was a fitter. In England, fitting is one trade and being a turner is another trade. It's only in Australia that they put the two trades together. I remember when we came here, Dad would go to jobs and they would ask for a fitter and turner. And he'd say, "Bloody hell, they're two separate trades! You've got to spend years learning each of those trades. I spent seven years just learning how to be a bloody fitter. You can't do that in that short period of time." Because of this combined trade, Dad would often miss out on jobs because you would need a fitter and turner's qualification certificate. He was brilliant at his trade though and would often brag and say, "You know I can actually build a machine from the blueprint. Not too many people can do that." He used to speak fondly of his time as an apprentice with the 'Cravens' company. He spoke with gratitude and affection about the men that trained him throughout that time.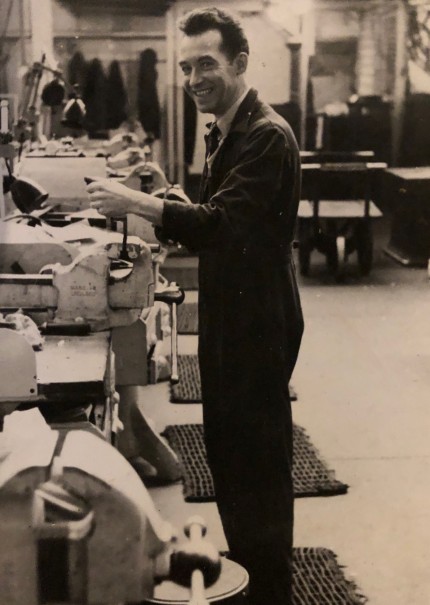 When we were living in Adelaide I worked in the office at a place called the Smith Motor Company. The company was located on the main road of Port Adelaide. It was while working here that I met a wonderful man by the name of David. He worked in an area called 'The Locker' doing car appraisals. When someone would bring a secondhand car in, David would decide what the car was worth and the value would be taken off the price of a new car that the customer was purchasing. I remember on one particular day, I went home to Jill, a friend that I was living with at the time, and I said, "I'm a little bit worried." And she asked, "Why?" I said, "Well, David is playing footsies under the table with me." And she said, "Well, just be careful because he's married now." And I said, "Well, I'm trying to be but he is rather attractive." Then I said, "David and another friend from work have asked me to go out for a meal with them for my birthday." She said, "Well, you'll be fine with the two of them. You'll be okay." So I went. But of course, the other person didn't turn up.
So that, really, was the start of my romance with David. He was a lovely man, a really beautiful man. We saw one another for a while and then we broke up. My parents really didn't want me to continue seeing David. They wouldn't allow me to continue living with them if we continued to see each other. At this time I had just fallen pregnant. My parents insisted that I put the baby up for adoption. At this point in my life, my parents still had a lot of influence over my life and I felt as though I had no choice. At the time there was shame and silence surrounding a pregnancy out of wedlock. Adoption was seen as the solution and I was pressured to relinquish my baby.
After David and I had broken up, he didn't go back to his wife because he realised that he wasn't happy in the relationship. He had said that all along. David said that he never should have married her and that he was never in love with her. His wife did of course blame me. She called me all sorts of names. This was a natural thing for her to do. Don't get me wrong. I think that's understandable. Once I knew I was pregnant, I never really had anything more to do with David then. When I fell pregnant with Tess, my mother said to me, "Well, you realise you can't keep this baby." I don't think I did anything more than just pull my face. No, I didn't like to scream or cry, or say, "You bitch. Why can't you help me out somewhat?" I didn't do any of those things. I'm a bit strange like that. I just accept things. You know? Looking back on it now, I'm struck by the irony in my mother refusing to help me so that I could keep Tess. After all, she went through the exact same thing and it was her mother that supported her in such an open and loving way.
It was a really difficult time. It's surprising how tough we can be at times when we need to be. I just had to get on with things.
Tess was born in Adelaide on the 17th of February, 1968. Not long after, we moved up to New South Wales. Mum and Dad settled in Cronulla, in the Sutherland Shire of Sydney. Apparently they drove all around and when they came to South Cronulla, Mum really liked it. So they rented a flat there. Around this time my Mum told me something that I'll never forget, and it was really a good thing she said to me. I'd just given birth to Tess and was hurting. It was a difficult time. Mum said to me, "Now when you get the train tomorrow to go into the city, do not sit in the carriages in the middle of the train. Sit in the end carriage where you're actually facing people. Always remember that the person opposite you is suffering just as much as you are." So I did this and it really helped me. I've never forgotten that. We are different but we're all suffering. We think we're not but we all are. This is something that helped me through that time.
I liked living in Cronulla. I didn't learn my lesson though. I met a guy when I went with some girls to a club. There were lots of sailors there. I just happened to look like a million dollars that night and so I got this really good looking guy. We got along really well. He invited my parents to come and see the ship he worked on. My dad had been a sailor, with the Merchant Marines during the Second World War and so he was very interested in seeing the ship. Of course he was a married man and so I didn't dare fall in love with him. I didn't tell my parents that he was married, of course. They wouldn't have liked that one bit.
At this time I worked at a place called 'A and J Griffin'. It was a company that made ladies' lingerie. It was located on Foveaux Street in the city. They would do all the designing and they had some machinists in there making the garments. They were high class garments made with a lot of silk and good quality stuff. Even on the steepest of sales I couldn't afford them, and I worked there.
I met Werner at a dance. My girlfriends and I used to go to these dances in Cronulla and I'd see Werner there with lots of his friends. He came out to Australia from Germany with about half a dozen guys and they would all socialise together. And I'd be there. I think it was me and a girl called Sheina. We would be the only females there and then we would meet up with Werner and his mates. He and I had a couple of dances and I think he took me home a couple of times.
In 1969 an amazing thing happened. Mum was on Croydon Street. Because she was so busy, she would often be rushing around like a chook with it's head chopped off. She'd be going on her way home from work to cook dinner and I would bump into her and say, "Is there anything you want me to do, Mum?" On this particular day she said to me, "Duck into the newsagency and get me a Lotto ticket." She told me what type of ticket to get and that it was for her and 9 other workmates. This was something that they regularly did - chip in and get a big Lotto ticket together.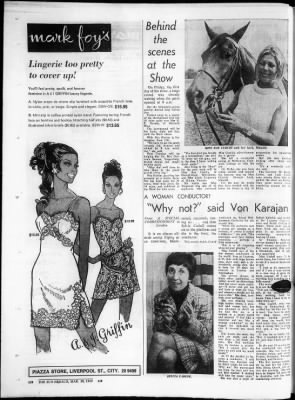 So I went in and asked for this ticket. And it won! They won the Opera House Lottery! At this point, Mum and Dad were renting a place on Burraneer Road in Cronulla. They bought the house next door but one, with their share of the winnings. In fact, every one of the ten people on the ticket was able to buy a house and a car (outright)!
There was a lady that walked in after me. And in those days, if you got the tickets on either side of the winning ticket, you got $1,500. And she bought the next ticket. This was a decent amount of money in 1969.
This really changed my parents' lives. There was probably a lot less arguing between them, because there were always arguments in our house due to money worries.
In the early 1970's my mother was diagnosed with Ovarian Cancer. The prognosis was very bad. There was nothing really that could be done. They just did what they could in terms of treatment, but she knew that she was dying and that was it. I think it was like that for all people who got Ovarian Cancer back then.
I remember sitting in the garden and we had our friends, the Pollitts come over. They were old friends from England we knew. I remember Mrs Pollitt breaking down and crying and getting really distressed.
At this time, Mum and I were close, but we were not as close as perhaps we should have been. I was always closest to my grandmother, but it's just normal and natural because she was really my mother. It's as simple as that. Due to this, Mum and I were more like sisters. Don't get me wrong though, I loved my mom. I really loved my mom.
After her diagnosis, Mum went back home to England. She always said she wanted to die in England and she wanted to be buried with her mum.
I remember being further saddened by my Dad's behaviour at this time. He had to arrange for my mother's remains to be moved from the South of England to the North of England. I don't really know but I imagine it went by train. And then her body would have been transported by road to the cemetery. I remember him calling into my Aunty Nellie and Uncle Jesse's, who lived just across the road from the cemetery and he was bitterly complaining, "They didn't do anything to bloody help me, blah, blah, blah," which is typical of my father. And I remember thinking, "Yeah, what did you do for our family in England for the past so many years? Several people were laid to rest in that time while you were in Australia. So you've not been around to give them a helping hand with anything either."
After we first migrated to Australia, we came back to England for a while - every one of us. Before long, I decided to go back to Australia. The only problem was that I couldn't migrate. I had to pay my own fare, which was a princely sum back in those days. I had to get a second job in order to pay for the ticket. Even with the added income it took me a couple of years to raise the funds. The second job I took on was at Lyme Hall in Derbyshire. I used to look after the car park. There was a caravan and they used to put that in the car park. I would sell tea and coffee there.
I worked there for two years. We used to get the normal bus to a pub, which was in the middle of two roads called The Red Lion within Hazel Grove. One would have gone to Lyme Hall, which is in Derbyshire, I believe. The other one would have gone to some other area totally distant, I don't know where, though. Lyme Hall and the land that is Lyme Park belonged to Richard Legh, 3rd Baron Newton. Lyme Hall had been in the Legh family since 1388. Richard Legh gave the Hall to the National Trust in 1946. And he had a connection with Princess Margaret. A big, overweight, Irish lady used to cook us all breakfast when we got there. And it was a really beautiful breakfast. It was a proper home style breakfast with eggs and rashes of bacon and God knows, whatever we wanted. And she'd feed us all up. She was a lovely lady. Her name was Mrs Kelly. Then I worked there in this large caravan, you could say. And we had a lot of fun, a hell of a lot of fun! We used to pretend there were ghosts there and we would frighten each other to death, running around the place screaming half the time.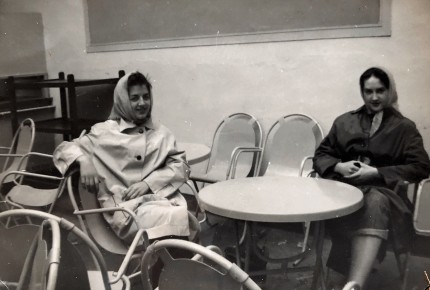 After a couple of years I had saved up enough money for my ticket to return to Australia. I was the first one to return. When I got back to Adelaide, I got the job working in the office for the Smith Motor Company. I made lots of really good friends while I was there.
Around 1969, I got a job in Sydney working for a German firm called BASF. This was an acronym for 'Badische Analin und Soda Fabrik.' When I wasn't busy there, I would often read quietly under my desk. It was here that I remember reading the book Papillion. I have this funny memory of being under the desk this particular day when in the storyline a character says, "I've never laughed so much since my mother's tits got caught in the mangle." Naturally I roared with laughter but then had to quickly stop as I was supposed to be working.
At this point I was in my late twenties. I think I just got to a stage where I wanted to settle down, get married and have a family. This is when I started seeing the married sailor. I could have kept the relationship going had I wanted to, because he was in the Navy. And I remember writing to him and saying, "There's just no point to this, because I actually do want to meet somebody and get married and have a family." So I ended that. I didn't write to him anymore.
Werner and I were married in a registry office in Sydney on the 4th of July, 1970. We lived in Cronulla together. Werner was working as a glazer in Taren Point. Early the following year on the 19th of January, 1971, our daughter, Natalie was born. It was a very difficult birth. Afterwards, I was given a special saltwater bath, to help heal a tear in my bowel. All the other women in the ward were told to start breastfeeding straight away. I've had trouble with my bowel all my life, since that time.
When Natalie was six months old we went to live in Germany for a year. I couldn't speak any German. Living there for that year didn't really change that. Funnily enough, it was when Werner's mother came over to Australia on a holiday, she couldn't speak any English and so I forced myself to learn German and I did - just so that I could speak to her. She was a lovely lady, by the way. Her name was Frieda but they called her Fridel.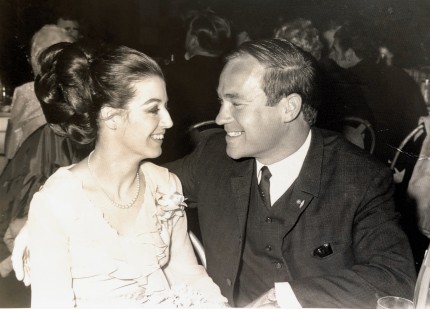 Werner's Mother made a big fuss of us when we got there. She was happy to see us. We weren't there for very long before we all went on a trip to Austria together. Frieda came too. I remember that from where we stayed, you could see the Austrian Alps on one side and the German Alps on the other. So it was surrounded completely by mountains; snow capped mountains, and they were the Alps. We went into the Alps this particular day and stayed for two days. We drove around all the lovely villages. The countryside was so beautiful! I remember writing to my dad and saying that I felt very, very blessed seeing this beautiful country. It's absolutely gorgeous! Really lovely!
One thing I noticed while I was over there was that they have very clever designs. I remember Frieda had a spare bed that when folded up, looked like a sideboard. She'd leave the bedding on, and pull these two straps across to hold the bedding in place. Then she would fold it up and suddenly it didn't look like a bed anymore. She'd put ornaments on the exposed wood that now looked like a sideboard until it was time to fold it down again. Werner worked doing glazing while we were there. We were fortunate in that Werner's boss had loaned him a car for the duration of our stay. With Werner out working during the week, it made being in Germany with a little baby and no language, quite tricky. I remember walking with Natalie around the village, but not being able to speak any German made it quite difficult to meet new people. Catching the bus to visit family when Werner was working was also tough. Prams were big in those days and getting one on a bus was hard. So it was somewhat of a lonely time.
I found the isolation unbearable in the end and Werner agreed to return to Australia. Taking Frieda's only son and granddaughter away from her was very difficult and I will forever remember her distress, running along beside the train as we left. It was just heartbreaking!
Once returning to Sydney we moved to Bundeena. It was a nightmare because I didn't drive. We had to get the ferry, and then there was the bus that met the ferry. We lived as far away as you could in Bundeena. It stopped at some gates that went into the national park, which was the last stop on the bus route. That was our stop and we rented a house there. But Werner was still the same old Werner. Every Friday night he would just shoot off out and leave me at home. And it wouldn't have mattered how much I complained or carried on. He didn't change his ways. He would drive home and that would worry me because I would think he could have an accident anywhere, on that long road back home.
I have four children. Tess, my eldest was born on the 17th of February, 1968. She was adopted by the Sorensen family - a loving family who have given her a wonderful life. I was so happy to be reunited with Tess and to learn that she had a great childhood. She is a wonderful girl!
My next three children were all born at Sutherland Hospital. In those days the ladies would sometimes nip out the window between breastfeeds to have a cigarette. On the 19th of January, 1971 my daughter Natalie was born. My son, Karl Herman was born next on the 6th of January, 1974. My youngest, Mark Werner was born on the 3rd of September, 1976.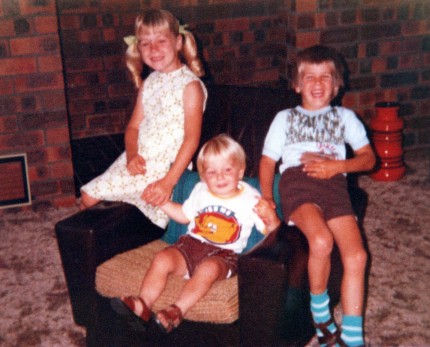 Werner and I bought a single storey house at 83 Bridges St, Kurnell. It was a little house. I was really quite depressed about it, actually. I didn't like it one bit. When we were renovating, the kids were really little and so it was quite stressful having all of that going on. But it's amazing how you cope. You just swallow and get on with it really. It was obvious that we needed more room. So we added another storey. Rather than add the level to the top of the existing storey, they put it underneath. The builders came in and they put machinery underneath the house. Then they jacked the house up and sat it on blocks of wood. Ours looked like a pyramid. Then they built a new storey underneath it. Later on, we built a granny flat out the back.
Kurnell Primary School was a lovely little school. I have fond memories of working in the tuckshop and going to the athletics carnivals. Sue and I would work in the tuck shop. Two other ladies I would work there with were Mary Scott and Mary Satchell. I remember one day Mary Satchell said to me, "Oh God, Sheila, I had a terrible accident yesterday." I said, "Did you? What happened?" She said, "A man, a workman came to the window to ask a question about where such a thing was, and I went and stood over there to answer him, and my teeth fell out." Well, I couldn't stop laughing. And she was so embarrassed, but she was also laughing at herself. Mary Scott was in a heap on the floor, laughing hysterically.
It was a nice school. I can't fault it, actually. Karl's middle name is Herman. I remember on that first day when the principal, Mr Keys read out everyone's full names, he didn't read Karl's middle name out. I think he was worried that other students might mock him for it. I remember thinking to myself, "Thank you Mr Keys." It's funny, Karl loves his middle name now. He loves the German side of the family and the food and the culture.
Werner then started his own business a few years later, called 'The Glass Experts.' We really enjoyed living in Kurnell. When the kids were little we had a cattle dog named Pep. Years later we had another one named Axl.
I loved my garden. I've always loved gardening. I'm not sure where this came from. I do have a particular memory of helping my dad one day with the garden on Bideford Road in Stockport. This to me is unusual because usually I would keep away from my dad. So I'd very rarely have anything to do with him. But on this day that I helped with the garden, I remember that he was grateful for my help. And I did make it look nice. But I've just always liked gardening and plants, so I don't think it's come from anybody, it's just me. That's my thing that I like to do.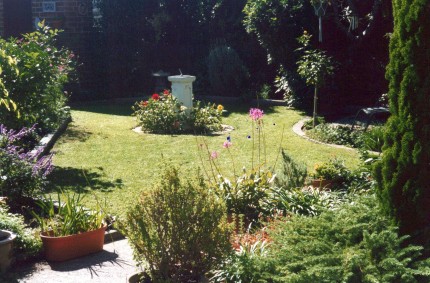 I've had wonderful, enduring friendships over the years. Pat McMullen and Mary Hallisey are people who I've been good friends with for a very long time. Since primary school, in fact. Gloria McGaw was always a very good friend. She and her husband, Bob have gone to Western Australia now and so I don't really see her anymore. Sue and Bob Byrne, my neighbours at Kurnell have been wonderful friends over the years. Sue's a lovely girl. Shortly after moving into our house in Kurnell, I remember meeting Sue when I popped over to her house next door to ask her how the milk was delivered.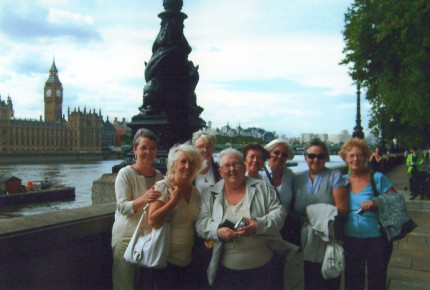 The Byrnes would come down to our holiday house in Kangaroo Valley for weekends. Bob loved to drive our sit-on mower and he would have the the two and half acres looking like a park. I just loved it, because I'd go down there, one or two weeks later and it would be just so lovely and mown. We'd have a relaxing time down there together. Sue would bring a pile of books down with her, because she likes to read. She and Bob are really decent human beings. And their girls, Karla and Lana are lovely too. You don't come across people like the Byrne's very often. I'll always think a lot of them. Sue is still a marvellous friend to me and always has been. She's maybe the nicest human being that God ever created. A lovely, lovely girl.
I have been lucky enough to do a lot of travelling in my lifetime. I've had the experiences of the cruises to Australia in my twenties and lived the year in Germany when Natalie was a baby. During mine and Werner's marriage, we spent a lot of our time at our holiday house in Kangaroo Valley. This was Werner's idea of a holiday. To me it was another house full of chores to do - so it was never a relaxing break for me. We did, however, go on some lovely family holidays over the years. We visited Tasmania and many places in Queensland: Noosa, Surfers Paradise, Cairns and Port Douglas (several times).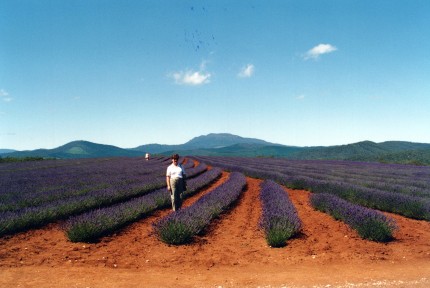 I have returned to England quite regularly over the years, once taking an eleven year old Natalie with me and several trips when Natalie, Karl and Mark were living there at different times. On occasion I was lucky enough to go back to Stockport with Natalie, Karl, Mark and their partners. Karl took me to Paris and years later, to Santorini in Greece. We travelled there with Shontelle and their children. I had a wonderful trip to Prague with Mark and Belinda. One year, I surprised Natalie and Fil for Christmas in Winchester.
I've been back to Germany to visit Frieda and other family members, several times. Even after our divorce, I visited Frieda and kept a close relationship with her.
I went to New Zealand with Werner and Mark in 1990. I loved the South Island! Werner and I visited Norfolk Island together. I've really enjoyed all my visits to Tauranga to see Karl, Shontelle and my grandchildren. I love seeing Oscar and Ella!
I've returned to Stockport for reunions with school friends more than once and a group of us enjoyed a trip to London together. This included high tea at the Ritz. One of my closest friends from that group, Mary, joined me on an amazing holiday to the Canadian Rockies and a cruise to Alaska. We had a great time together! Mary has visited me here in Sydney, too.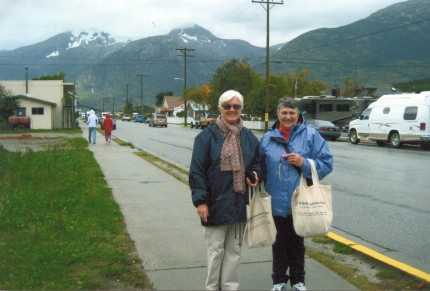 Later Life
Years later, the little girl that I had given birth to in Adelaide, Tess, got in touch with me. Tess wanted to meet me and I of course, wanted to meet her. Prior to calling me that first time, Tess was worried that when she rang me, initially, that it was going to cause problems for me and my marriage. When Werner and I had first gotten together, I had told him that I'd given birth to Tess. There was no shock for him. I invited Tess to come over. So she and her husband, Lance did come over and we all got together and all the family met them. I think Bob and Sue next door came in as well. She's a lovely girl. My brother Tony and his wife Marilyn came to meet them. When Tony met her he said, "God, she's like you when you were that age."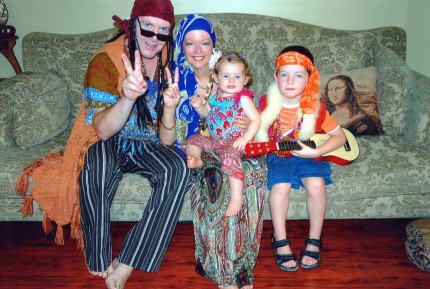 I was also eager to meet her children, so I did what I thought was the right thing and wrote and asked, "Would it be all right if I came to Adelaide to see you and the children?" Tess was raised by the Sorensens. A loving family who have given her a wonderful childhood. As happy as I was and am to be reconnected to the little girl I gave birth to all those years ago, I would never want to show any disrespect to the parents who raised her. They were the people that looked after her when she was ill. They were the ones who spent the money on her wedding dress. They went through everything with her. Tess is now happily married to a lovely man named Lance. She's got two children - a little boy named Mason and a little girl named Ruby. Tess works as a product manager and her husband, Lance is a self employed property renovator. Tess, Lance and their children live in Perth.
My daughter Natalie is a brilliant artist. She's always been this way inclined. I've always had my walls adorned with beautiful paintings that she's done. Even now in my room at the nursing home, I've got three pictures up, actually. I've got a lovely picture of Monet's 'Lily Pond'. I remember seeing the real 'Lily Pond'. I was holidaying in France and was spending some time with Karl. I saw an advert. I was walking with Karl at the time. And I said, "Oh, look at that. That's Monet's 'Lily Pond', I've got to go and see it." So we saw the lily pond and the bridge that goes over it, which it's very well known for. So I took a photograph of it. And when it was developed in England, I said to Natalie, "Do you think you could paint this for me?" And she said, "Yes. I'll give it a go, Mum." And it's beautiful. It's absolutely gorgeous what she's done. It's a beautiful oil painting. There's another one next to it, which is a Scottish castle. I know that she copied that out of a book, and it's just done with pencil, nothing else, just pencil. And it's also very beautiful. Then at Christmas time, she sent me a little round plaque with an owl on it, and it's lovely. Behind me on the wall is a painting of some purple flowers that are called morning glories. She's very casual with art. I think she's got a real knack for it. There's also a picture of Natalie on my wall. It's a sketch of herself - a self-portrait. There's a lady upstairs here who has been a school art teacher. She said to me, "She could teach art to anybody, that girl. She has a real gift for it."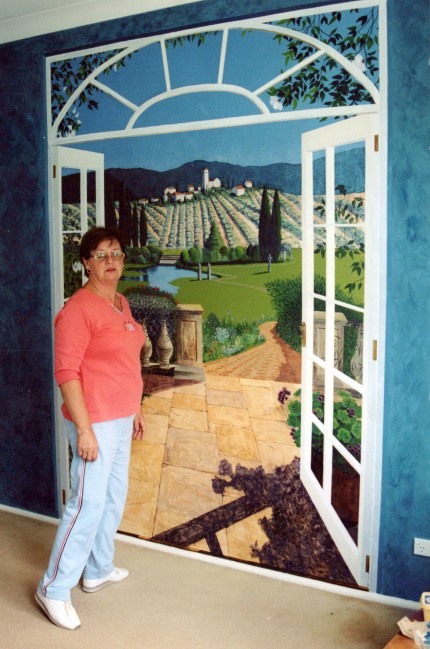 Natalie has two boys. Alexander is my first born grandson. Alexander's father is Lawrence. Things didn't work out with Natalie and Lawrence and they split up when Alexander was very little. Natalie fell in love with Fil. They got married and had Flynn. Alexander and Flynn are grown up now. Alexander and his fiance, Macaylah had a little boy last year. They named him, Elijah. Natalie and Fil were married for a long time, until a couple of years ago when they separated. Natalie now lives in Devon, England. She's painting a lot and is very happy.
My eldest son, Karl married a really nice girl, Shontelle. I really like her. They met in London where they lived for many years. Karl and Shontelle are very happy. They live in New Zealand. They've got two lovely children, Oscar and Ella. Karl spends a lot of time working on his land. He's got two and a half acres of land, and he spends a lot of time gardening. He's got chickens. I think he might have a couple of llamas or something like that. He spends a lot of time out there. Shontelle is a florist. Karl built her a beautiful little shed with all different things in it for her work. He did a really good job with it. So it's all set up ready for her to work in. They've got a good life out there in the country in New Zealand. Karl is a carpenter by trade and works for a company in Taurunga.
Mark is married to a wonderful girl named Belinda. They've been married for twenty years, this year. They lived in England for four years before starting a family and Mark misses it and the friends he made there. Like me, England is in his heart. Together they have two kids, Annabella and Ewan. In his late teens, Mark did his apprenticeship as a bricklayer. He worked really hard in this profession for years. Now he and his business partner, Rado have a building company called Durabay and they're doing really well. Belinda is a radiographer and works now at Sutherland Hospital. Mark and his wife have a beautiful house in Cronulla.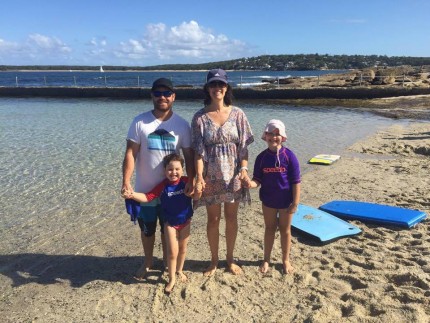 After Werner and I were divorced and sold the house in Kurnell, I bought a townhouse on Oleander Parade in Caringbah. I was happy there, very happy. I had a lovely little garden out the back there. I'd visit friends and they'd visit. I used to go into town to some of the concerts. I have so many lovely memories from when I lived in the townhouse. Living there coincided with the birth of most of my grandchildren and so I have many happy memories there that involve being with them.
I had a minor stroke in my sixties. This brought on Epilepsy. That day, I had arranged to look after my grandson, Flynn for the day for Natalie. She was going for a job interview. I knew she needed to get this job. When Natalie arrived that morning she took one look at me and said, "Mum, you've had a stroke." The muscles in my face had dropped. I couldn't speak properly, and I couldn't pick anything up with my right hand. I said, "Yes, I know. But you need this job. So just get the job. Just go get the job. Don't worry about me. I'll be fine. I'll go next door to Aunty Sue's, and she will look after Flynn while I'm at the doctors." So that is actually what happened. I took Flynn to Sue next door and she looked after him while I went down to Dr Calverley. Dr Calverley said, "Well, you've had the stroke already. There's not much that can be done now, so go home and relax and don't worry about it." In a way, it's true. It sounds absolutely dreadful. I mean, even Belinda said that this was terrible advice, but it's true. Once you've had the bloody stroke, there's not much you can do about it, you know? Anyway, Natalie got the job and I was ok so it all worked out.
The weddings of my kids have been really special. I remember when Natalie married Fil. It was a lovely day, and my friend Eileen Graham said to me, "Where are you going, to the Oscars?" I knew that I must have looked nice! Although Natalie and Fil aren't together anymore, he and I have stayed close. I've told him he will always be my number one son-in-law. He's just a lovely, lovely guy!
I've got eight grandkids and one great grandchild in total. Each of my children have got two children each. They're so great! As I say these words, I'm looking at a framed picture of two of the boys now, Alexander and Flynn, sitting on my knee. Flynn has got the dirtiest face you've ever seen. I can remember that day saying to Natalie, "Grab the camera quick, look at his face. It's filthy!" And she took the photograph. When you're a parent, you worry a lot. You know, parents are the ones who have to get the doctor when the child's got pneumonia or something like that. That's not you as a grandparent. It is less stressful in that regard. Being a grandmother is wonderful and I just love all of my grandchildren.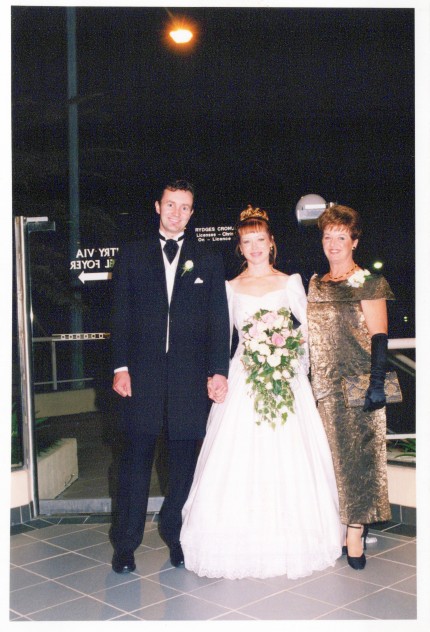 I've always enjoyed quilting. I've made a few of them over the years. They take a long time to make. I've just given one that I finished to my granddaughter, Annabella. I've always knitted as well. Just for the children, really. I would do the little trousers and things like that.
Over the last year I've had some major health issues. I've had a few falls and on occasion, my memory is starting to fail me. Recently, I sold my townhouse and moved into a nursing home.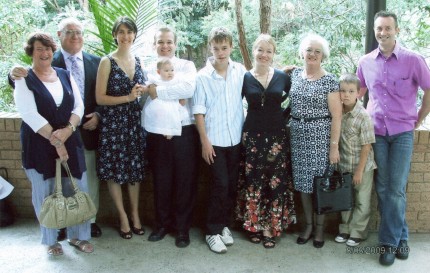 I think my son Mark is surprised. Recently, Mark said, "I can't believe how you've settled in there so quickly, Mum, you know?" And I said, "Well, look, you know, I waited on your dad hand and foot, and you kids as well. And here I am getting all my ironing done, all my washing done, somebody cooking my meals. They come in once a week and clean the floors. And they come in every day and clean the bathroom. I mean, what more do I want?" I'm meeting new people. I've been having some lovely in-depth talks with a lady I sit with in the dining room at meal times. Her name is Collette. She's from Brussels in Belgium. We also go to a keep fit class twice a day together. My personal trainer was in here a couple of weeks ago and you know, I said to him, "I'm just so deliriously happy in this place." I love my room here as well. My daughter-in-law carefully selected the room and it's just perfect. I have a beautiful view of geraniums out my window. It's just lovely!
I spent so many of my years crying either with fear or with humour. Rarely were my eyes dry but I loved life then and I still do now. Still many ups and downs of course, but I handle the downs much better now. I've been very lucky to have the family and friends that I do in my life. So I feel very blessed. I am happy being single but I'll be honest, I'm still looking for my own George Clooney.