Barbara Mahony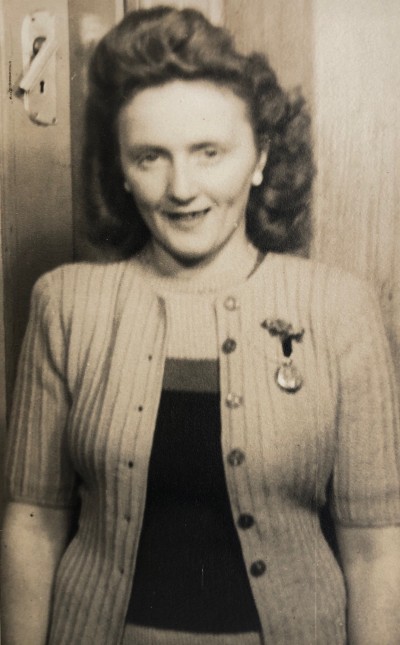 Born 4TH OF JANUARY, 1927 Croydon, Sydney, Australia
Died 30TH OF JUNE, 1985 Maroubra, Sydney, Australia
Barbara Ridge was born on the 4th of January, 1927 in Croydon, NSW. She was the third daughter born to Gertrude Ryan and Vincent Ridge. As an infant, Barbara lived in a Croydon. When she was young, the family moved to a house on Paine St in Maroubra. The Ridge girls attended St Aidan's Catholic Primary School in Maroubra Junction. Barbara's father, Vincent Ridge, was a vegetables commission agent. He had a market stall at Paddy's Market in Haymarket, Sydney. Quite often, Barbara would accompany her father for several days at a time out to areas in the Greater Western Sydney to meet with vegetable sellers. As much as she loved this time with her father, her mother wasn't pleased about the time away from school. During her youth, Barbara spent a lot of time at Maroubra Beach with her school friends. As a child and teenager, Barbara learned how to play the Banjo.
The Ridge Family were devout Catholics, attending Mass regularly at the Holy Family Church in Maroubra. Barbara and her sisters were members of the local Church group for girls called 'The Children of Mary'.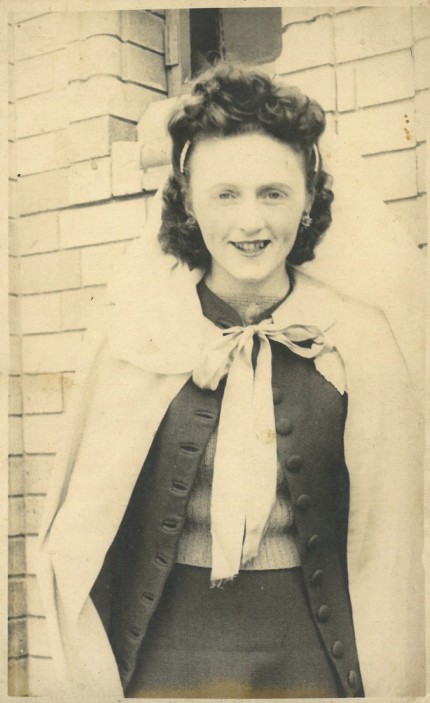 At about the age of sixteen, with World War II in full swing, Barbara left school and accepted a job in the city as a telephonist for the Department of Defense. With her charm and sense of humour, she was very well suited to the job.
Barbara was a renowned prankster. She once sent a letter to the Department of Defense saying that she was getting married but couldn't afford material for a wedding dress. She asked the Department if they would be so generous as to donate a parachute so that she could use the material to make a wedding dress. The letter was a big hit with it's recipients. Word got around about this bizarre request and it was published in the newspaper.
Barbara worked for the Department of Defense right up until she married her husband, Rex in 1947.
Barbara and Rex first met at a CYO (Catholic Youth Organisation) Dance at the Holy Family Church Hall in Maroubra, when she was about sixteen or seventeen years of age. She was with her older sister, Helen and some of her friends, including her best friend, Betty Duggan. When Barbara spoke of that fateful evening, she remembered Rex wearing trousers that were slightly ill-fitting, in that they were too short for him. So she and her girlfriends nicknamed him, 'half-mast' (like a flag that's only half-raised). At the time, Rex's parents were eager for him to go out with a friend of the family. Barbara and Rex met over several dances at the venue and developed a keenness towards one another. They then started dating. Some of their favourite haunts were The Trocadero and Oysters Bill's. Initially, Rex's mother, Alma (Mahony) wasn't too happy about the courtship due to her strong allegiance to the Church of England and Barbara's Catholicism.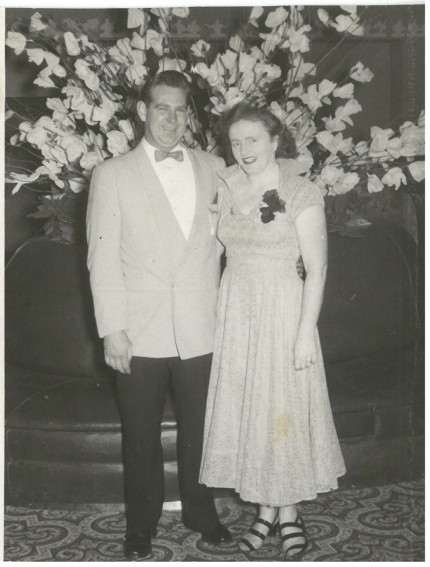 Barbara and Rex couldn't get married when they first wanted to because there was a shortage of rental accommodation. This was due to the huge influx of soldiers that had returned from the war. Many of the regional officers were seeking and obtaining jobs in Sydney, creating a rental shortage.
Barbara and Rex were finally married in 1947. The wedding was at the very same place they met - The Holy Family Catholic Church in Maroubra.
Barbara's sister, Helen and her best friend, Betty were the bridesmaids.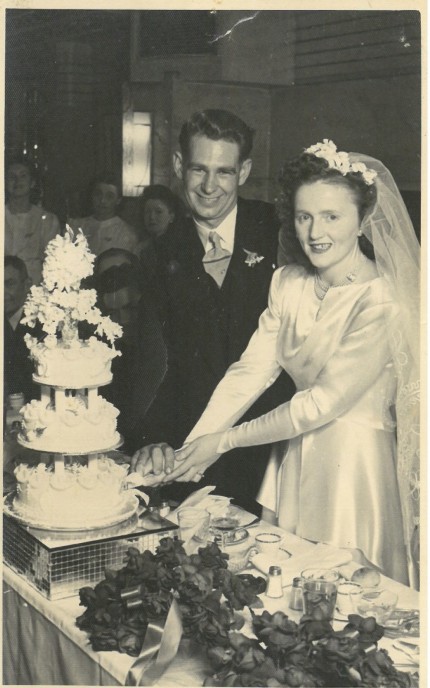 After they married, Barbara and Rex moved into a rental 'semi' house together on Edgar St in Kingsford. The previous residents of this house were Rex's entire immediate family. They moved to a house they built on a large property in Delungra, NSW. Rex's father, William, had received a returned servicemen's land grant. He used this to purchase land and build the house in Delungra.
Three years later, on the 14th of November 1950, Barbara and Rex welcomed their firstborn, Margaret Christine Mahony. On the 30th of April, 1953, another daughter, Cherylanne was born. Margaret recalls the story told by her mother that Rex was given the task of going down to Births, Deaths and Marriages to register the birth. Having come up with the name herself, Barbara reminded Rex of the particulars for registration. Rex made an error on the registration form and wrote the name in singular form. He wrote it down as Cherylanne, rather than Cheryl Anne. Anne was the intended middle name. When the birth certificate arrived, they discovered the mistake but decided to stick with the now legally registered name. This is why Cherylanne doesn't have a middle name.
On the 27th of October, 1955, Geoffrey Rex came into the world. A short time prior to Geoff's arrival, Rex's younger sister, Shirley Mahony moved in with the family. She had been engaged to an Australian pilot who had died after being shot down over Korea during the war. When he died, he left his life insurance to his fiancée, Shirley. With the money, her family had talked Shirley into going to the United States of America by boat to visit Rex's eldest sibling, Patricia. Pat had married an American man and was residing in Wisconsin. Shirley stayed with Barbara, Rex and the children for a little over a year. The house on Edgar St was a communal home for several family members and friends, with various people staying for extended periods when they needed a helping hand. During the last twelve months of living on Edgar St, Rex's mother (Alma May Mahony Nee Woods), having recently separated from his father (William Henry Mahony), moved in, having left the property they shared with William in Delungra. Rex's younger siblings, Kerry and Cheree, also moved in.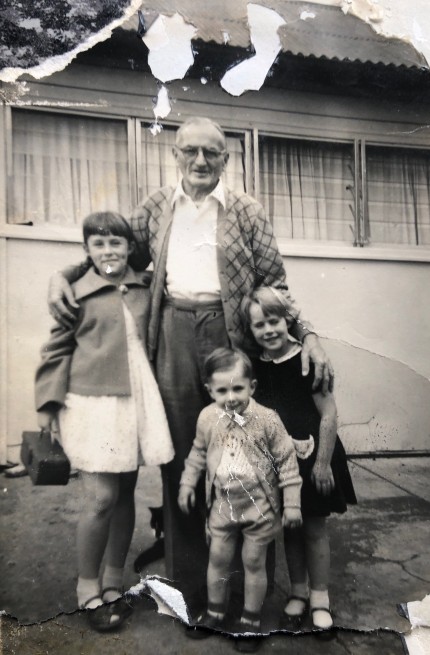 About nine years later Rex and Barbara bought the family home at 270 Maroubra Road, Maroubra. It was a three-bedroom house and sat on a big block of land, extending all the way from Maroubra Road to Green St. Rex's mother and siblings made the move with them to Maroubra for a short time. About a year later, they moved to a house in Petersham.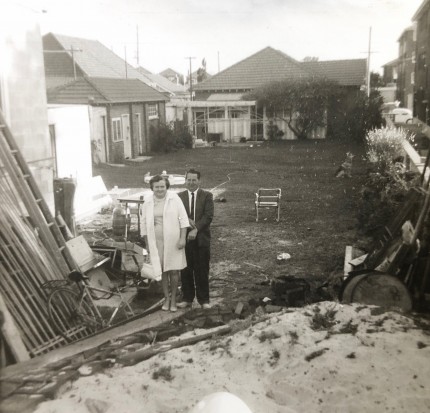 About nine years later Rex and Barbara bought the family home at 270 Maroubra Road, Maroubra. It was a three-bedroom house and sat on a big block of land, extending all the way from Maroubra Road to Green St. Rex's mother and siblings made the move with them to Maroubra for a short time. About a year later, they moved to a house in Petersham. The wooden BBQ House was painted pink, lemon, white and blue. There were no windows but it had canvas awnings that would roll down to protect its occupants in cold or rainy weather. It had flagstone floors. Rex made a big round table using a huge wine barrel as a base, with a round tabletop above. There was a large barbeque off to the side. At the time, this was the venue for lots of parties hosted by Barbara and Rex.
About four years later, the couple were granted permission from the council to build a refrigeration mechanic's workshop at the back of the property. This allowed Rex to relocate his business from Balmain and base himself at home. Barbara worked with him, taking bookings for jobs.
About six months later, Barbara and Rex decided to utilise what was going to be a large office and turn it into a large, fully functioning tavern. They named the tavern 'Ye Oldee Koldee.' Stepping into the tavern was like walking into a small pub.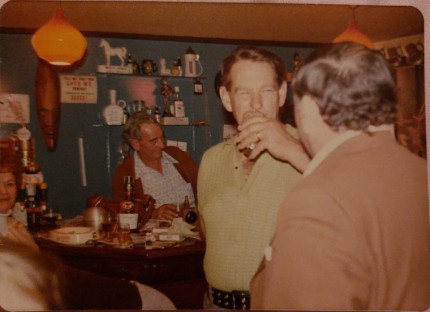 Rex and Barbara had a big circle of friends. Sundays were usually an open house to friends and family, with a barbecue in action in the tavern. Rex and Barbara did a fair bit of travelling for both work and pleasure. They both had a passion for cooking. Barbara was famous her 'beer burgers' and cabbage and apple dish.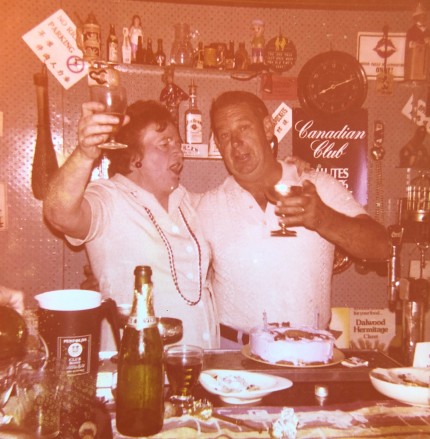 Friday nights always meant dinner at the Rusty Shovel - a Chinese restaurant run within the Kensington War Memorial Club.
Together they spent many weekends away at Bar Point on the Hawkesbury River with their closest friends, Roy and Nancy Cave.
In February 1985, just after Rex's 60th Birthday, Barbara was diagnosed with Oesophigial Cancer. Surgery was carried out at St Luke's Hospital in Kings Cross. They found that the cancer was too far spread and her cancer was incurable. Rex took leave from work and nursed Barbara throughout this time. Her condition worsened rapidly, and she passed away on the 30th of June that same year.